Donnie McClurkin to Celebrate 60th Birthday with All-Star Tribute Concert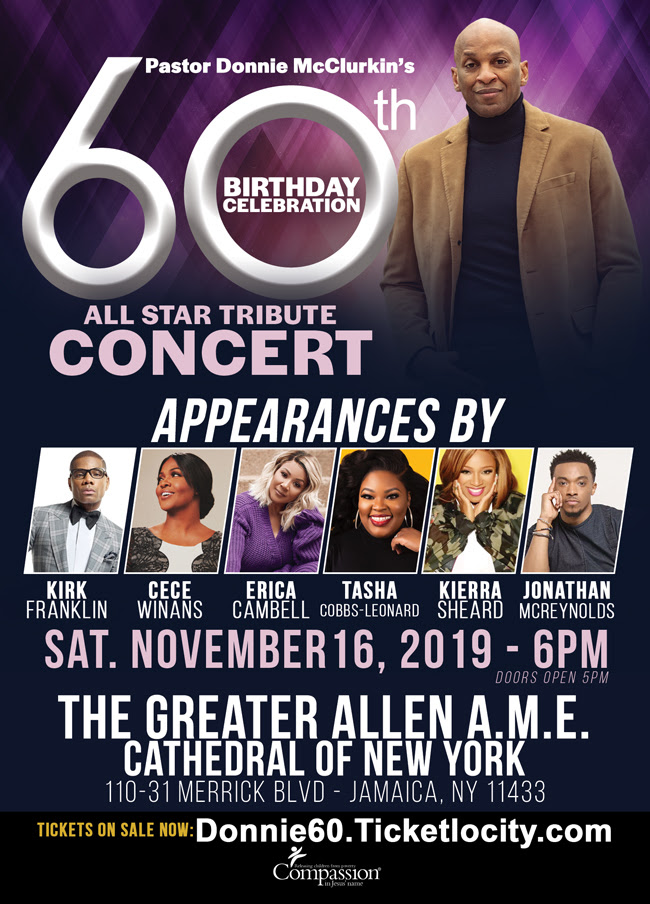 Pastor and gospel artist Donnie McClurkin turns 60 next month. To commemorate such a monumental year, he is holding an all-star tribute concert featuring legends like CeCe Winans and Kirk Franklin.
McClurkin, who pastors Perfecting Faith Church in Freeport, New York, is the creative force behind classic gospel songs like "Stand" and "Speak to My Heart." His latest single, "There is God," was released earlier in September and was written as a message of hope, emphasizing that God can be found in everything.
As he turns 60, this birthday is particularly significant for the pastor after he survived a serious car accident at the end of last year when he blacked out while driving.
"Lost consciousness driving…but two human angels followed my swerving car with their emergency blinkers onto stop traffic," McClurkin wrote. "[they] drove behind me until my car crashed into the middle concrete island. I remember none of it except those two angels pulling me out of the passengers side of the crumbled TOTALED car…airbags deployed…crushed metal and Fibreglas!! (sic)."
Despite the severity of his accident, McClurkin quickly recovered and was overseas performing within a day and a half.
"A day and a half ago, I was in an accident that almost took my life…today I'm in Kenya," he wrote in a statement following the accident. "Sunday I'll be in PFC ..praising God for His miraculous power of life over death !!!! Thank you, EVERYONE for praying for me…THANK YOU!!! The prayers of the righteous!"
The legendary songwriter penned the single"Not Yet" after his accident, which he released as a single earlier this year.
Now, with a renewed appreciation for life, he is celebrating his new year in a big way with the one-night event. The concert will be held at the renowned Greater Allen AME Cathedral, in Jamacia Queens, which was one of the stops on Kanye West's multi-city tour this past weekend.
To help the Grammy and Stellar Award-winning artist bring in his birthday, other artists scheduled to perform include Tasha Cobbs-Leonard, Kierra Sheard, Erica Campbell, and Jonathan McReynolds.
The concert will be held on November 16 at 6 pm. Tickets for the concert are currently available at Ticketlocity.
(Image via uGospel)