Has Kanye West Officially Become a Gospel Artist? Reports Say He's Done With Secular Music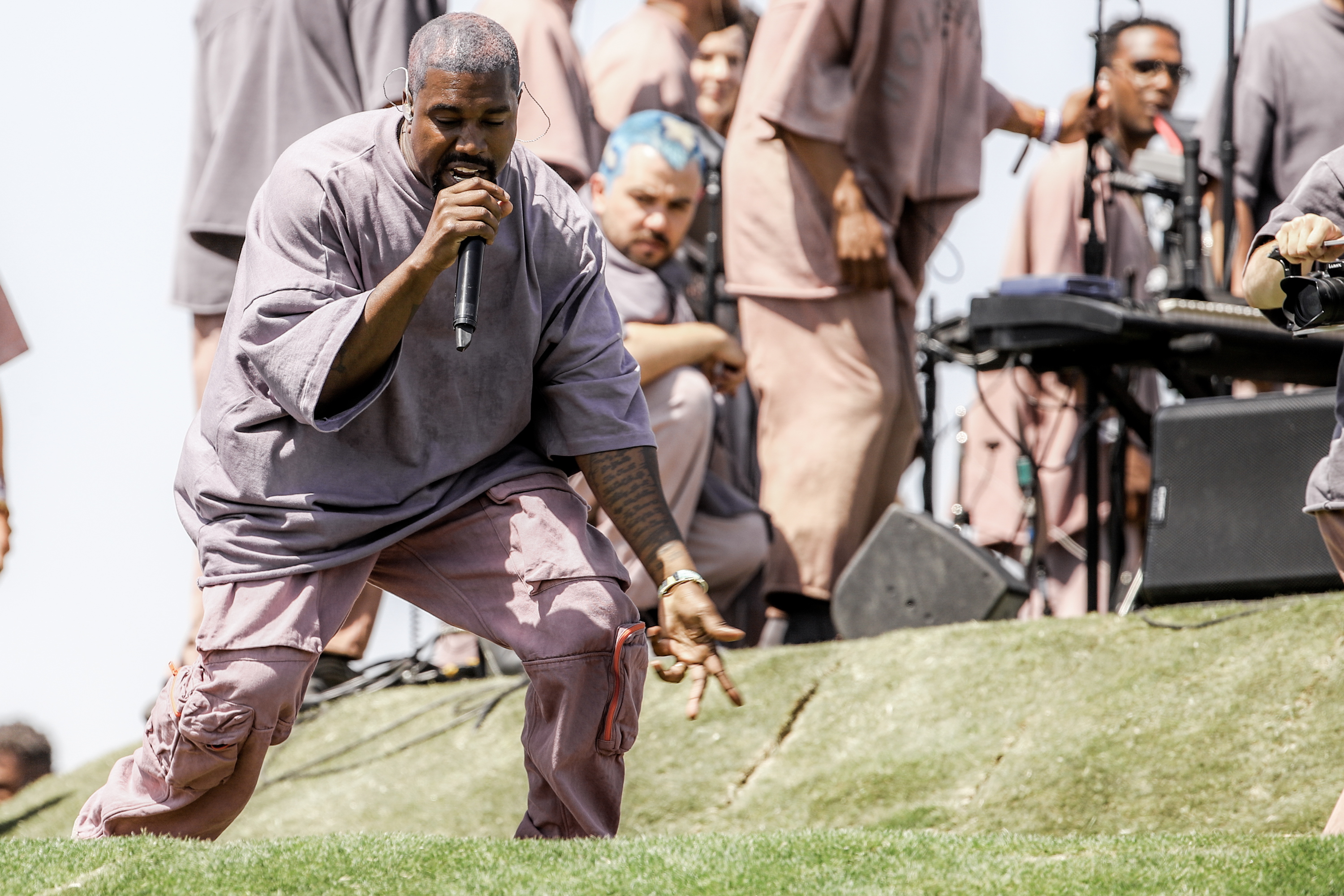 For the past few months rapper and media mogul, Kanye West has undergone a very public spiritual awakening where he has hosted church-like Sunday Services and teased fans about a new album called "Jesus is King."
Now, it appears his journey has caused him to shift musical genres from secular to gospel. According to reports, Andrew Barber, owner of the music media company Fake Shore Drive, reported that "Kanye also announced that he is no longer making secular music. Only Gospel from here on out."
Kanye also announced that he is no longer making secular music. Only Gospel from here on out.

— Andrew Barber (@fakeshoredrive) September 29, 2019
West made this comment during a listening party in Chicago Saturday night for his new album. The award-winning rapper has been on a multi-city tour promoting the new project, which was scheduled to be released on Friday, September 27, but failed to appear.
His wife, reality star Kim Kardashian West, wrote on her Instagram story that the album was pushed back two days to Sunday. "Kanye's doing a listening session in Chicago tomorrow, then NYC Sunday," she wrote. "He's dropping the album Sunday. Just a few final tweaks to mixes."
As of Monday morning, the album still has not materialized.
If West has truly decided to convert to gospel music, he will not have any trouble finding new platforms to share it. The hip hop artist has already been performing his new music in prominent churches throughout the country.
On Sunday he and his choir appeared at Greater Allen Cathedral in Jamaica, Queens singing traditional gospel songs like "Hallelujah, Salvation, and Glory" and converting pop tunes like No Doubt's "Don't Speak" to religious songs. He has also shared his music at California Worship Center, Chicago Fellowship, and New Birth Missionary Baptist Church in Atlanta.
While there are those who wonder if the pulpit is the proper place for West's music at this stage in his journey, even if he is proclaiming to be a gospel artist now, one well-known pastor finds the rapper's approach to the gospel to be in line with Christian tradition.
"Kanye is. This is a prayer. It started out just as music and it's evolving into a real Orthodox message with an unorthodox format. And that's the church," said Reverend Dr. DeForest Soaries of First Baptist Church of Lincoln Gardens in Somerset, New Jersey, "That's how the church started. The Church started with people bringing an orthodox message in unorthodox formats. And this whole idea of taking hip hop music and putting Christian lyrics on it? That's what the hymns are…If you take away the words for some gospel songs? You can't tell if they're gospel or R&B."
God is big enough to embrace multiple strategies. #KanyeWest #SundayService pic.twitter.com/MLbw7FOMaK

— Dr. DeForest Soaries (@dbsoaries) September 20, 2019
(Photo by Rich Fury/Getty Images for Coachella)