Tim Tebow, Demi-Leigh Nel-Peters Lean On Faith After Family Death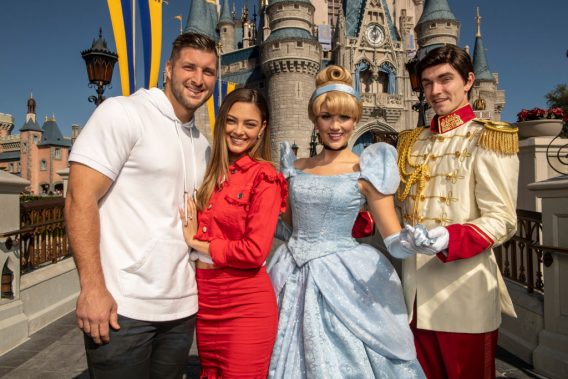 Tim Tebow is leaning on faith and prayer to help his fiance Demi-Leigh Nel-Peters cope with the recent death of her sister, Franje.
Franje, 13, was born with a rare condition called cerebellar agenesis that hindered her motor skills and development. On Saturday, former Miss Universe winner Nel-Peters announced that her sister had passed away.
"My little Princess, Angel on Earth, biggest joy and baby sister, Franje, passed away earlier today," Nel-Peters wrote on Instagram. "Our hearts are aching beyond measure but I am grateful knowing she's forever relieved of the pain she experienced on earth. She's laughing, running and playing in heaven just like we always hoped she would on earth. She's free!"
Her soon-to-be husband, Tebow, offered his prayers and faith-fueled encouragement during the difficult time.
"Our loss but heaven's gain," he wrote on Instagram. "So grateful for the hope we have of being reunited with the ones we love through our Heavenly Father. Mr. & Mrs. Peters and @demileighnp we are praying for you and love you so much."
The couple's shared care for young people with special needs is what brought them together. Every year, Tebow throws a prom for special needs people called Night To Shine.
Nel-Peters revealed that she met him through the event which was a divine setup. She shed some tears when explaining how the event brought them together.

"How we met was basically through Night To Shine, although I've never attended a physical event. But that brought us together," she said while appearing alongside Tebow in a Twitter video to promote the event. "God works in such incredible ways and ways you would never even understand. Someone told me that today, God winks."
She explained why the event represents a God wink for her.

"I'm a terrible winker, but He winks. I feel like that's such a God wink moment, like I got you," she said. "To be able to experience [Tim's] favorite night of the year with him, I think it will let me learn more about him and understand more. I've fallen in love with Night To Shine."
(Photo Kent Phillips/Disney Parks via Getty Images)