Tasha Cobbs Leonard Takes NPR's Tiny Desk to Church
Tasha Cobbs Leonard is no stranger to taking the gospel to unconventional places. Whether it's performing at a secular award show, singing at the Essence music festival or empowering women through brunch, she is not afraid to proclaim the name of Jesus.
This week she expanded her reach even more by appearing on NPR's acclaimed Tiny Desk, an online concert series that features both well-known and up-and-coming artists like H.E.R., T-Pain and even the puppets from Sesame Street.
Needless to say, this is a coveted gig for many artists, and one rarely obtained by a gospel singer.
Accompanied by a four-piece band and three background singers, she performed three of her most popular songs in a 16-minute set.
She started with her break out hit that put her on the map, "Break Every Chain."  The normally rousing worship song was toned down to a soft ballad but was no less powerful.
"That's one of my favorite songs," Cobbs Leonard told the crowd. "It speaks to me every single day."
Her second selection, "You Know My Name," comes from her 2017 album Heart.Passion.Pursuit.
"The song talks about how God knows you outside of what anybody else has called you," she explained. "Sometimes people will try to speak things over you that God did not design for your life. And no matter what they've said about you, He knows exactly who He's called you to be, and what your purpose is in the earth."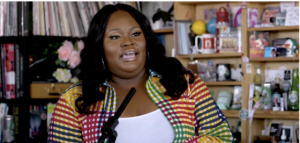 She closed out her set with an upbeat, country-music style number called "The River of The Lord," which is also from her 2017 album.
Cobbs Leonard explained the origins of the song by recalling that when she grew up she didn't just listen to gospel music. Rather, she had an eclectic musical palate.
Years later, when her husband presented the melody of the song to her, she got excited and wrote lyrics to it with some friends.
"Where I'm from it's called a hand clapping, foot stomping church song," Cobbs Leonard told the crowd. "We're going to clap a little bit, put a smile on our face and celebrate the joy of the Lord."
(Photos: via screengrab)