Christian Comedian John Crist is Coming to Netflix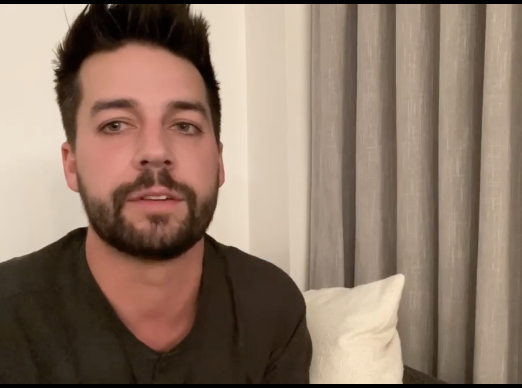 Earlier today Christian Comedian John Crist took to social media to let us know that "this is not a drill." On Thanksgiving, his special "I Ain't Praying for That," will be released on Netflix.
Crist has been cracking us up online for years with his comical videos making fun of Christian culture. With over a million followers on Instagram and nearly half a million followers on YouTube, it should be no surprise that Netflix decided to include him in their comedy lineup.
"The rumors are one hundred percent true, ladies and gentlemen," Crist said in a humorous announcement video. "This Thanksgiving Day, my comedy special, 'I Ain't Praying For That,' will be available worldwide…it's literally going to be available in 20 different languages around the world."
In the short video, the stand-up comedian also acknowledged that on Thanksgiving it may be difficult for people to break away in order to "Netflix and chill" and watch his special. But don't worry, he has a solution.
"So, I've come up with three Netflix alternatives for you to watch my special on Thanksgiving Day," he joked.
His three alternatives?
First, you can "Netflix and kill your nieces or nephews for banging on your door at 6 am" when you're trying to watch his special.  The second alternative is to "Netflix and treadmill" because, let's face it, you're going to need to walk all that food off.
Third, and finally, people can "Netflix and get grilled" by their family for all their questionable life choices, like why aren't you married yet.
"All jokes aside, I am so excited for you guys to watch this special, I can't wait to hear what you guys think about it," Crist said to end the video.
As a Christian comedian, Crist receiving a Netflix special is a monumental feat. His clean-cut humor will join the ranks of other comedic superstars like Dave Chappell, Amy Schumer, Tiffany Haddish and Chris Rock, all who are known for more colorful language.
Although Crist has risen to fame by poking fun at the church, for this son of a preacher, he sees it as ministry and insists it is done all in love.
"Man, I love the local church," says Crist. "Growing up serving at my dad's church, I know the effect that a healthy, vibrant local church can have on the community…that said…we do some weird stuff."
We cannot wait for this Thanksgiving when we can turn on Netflix to see him making fun of the weird stuff we do.
(Photo: screengrab)