Koryn Hawthorne Sophomore Album 'I Am' Out Now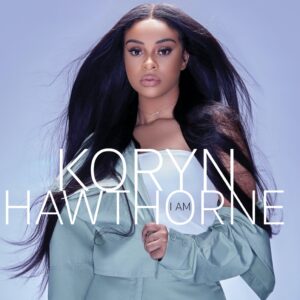 Rocking her effortlessly voluminous curly bob, sporting a Bel- Air Academy jersey, sitting on what looked to be her bedroom floor, Koryn Hawthorn hosted an exclusive virtual experience, sampling her highly anticipated album, I Am. Her face beaming with exhilaration and delight to demo the ten-track audial—seven of which are co-written by Hawthorne— she takes praise and worship to new heights.
The Billboard Music Award and NAACP Image Award winner, as well as, two-time GRAMMY nominee, Koryn Hawthorne, debuts her awaited sophomore Album, I Am, today Friday, September 18 on all streaming platforms. In conjunction with the album release, Hawthorne released a new single "How Great," and a video featuring contemporary Christian music artist Matt Maher. It is sure to usher in a fresh sound to Gospel music's repertoire, as the "urban inspirational" musician showcases her signature sound and boundless vocal artistry.
The latest album incorporates musical variety within track selections, with songs such as "Joy," building on a 1995 sample by Mary J Blige's "You Bring Me Joy"—a Barry White original. Additionally, records such as "You," "Sunday," and "Know You" include horns and syncopated beats capturing that homegrown NOLA bounce. This album also features soulful vocals of a crowd favorite, Jonathan McReynolds, in the song "Peace."
If you know Koryn's music, then you may be familiar with the Louisiana native's dynamic knack for delivering a faith filled message over a mixture of Gospel, Pop, and Hip-Hop instrumentals. Leading single from this album "Speak to You" is the #2 most added song at Urban AC radio this week, and it is described as Hawthorne's first "crossover" song, warranting the attention of a R&B audience.
When asking the songstress to comment on her single "Pray," which dropped this past July, and hit #1 on Billboard's Gospel Digital Song Sales Charts within the first week of release, she emphasized it being central to having a personal relationship with God.
"I think that this time God is showing us that we have to remove religion, you know, systematic beliefs whatever those things are. You have to have a personal relationship with him [God] for yourself, you have to build it for yourself, and prayer is the key to that."
When expressing the idea behind I Am Hawthorne describes the album's overarching message as simply being who God called you to be— and being confident in that. The young artist has a deep-rooted Christian background and refers to herself as a "church kid." She also expressed experiencing self-doubt related to her singing career. She did not perceive where she "fit" into Gospel music because she felt "different."
Now she is seeing things through a new lens and seeks to encourage the masses to be in the "I-AM" moment of their lives, where you are boldly standing and walking into what God has called you to do.
"For such a time as this has he [God] called and created you."
These words from the same teen artist who first nationally showcased her talent on season eight of The Voice. Now, shestands firm in her convictions, and is a full fledge powerhouse who holds no vocal or spiritual punches.
Koryn Hawthorne is living in her "I Am" moment and shows no signs of slowing down. Make sure to stream I Am, available now on all digital media platforms!!
Koryn Hawthorne: I Am is available now.
https://KorynHawthorneMusic.lnk.to/IAM!W&W
Koryn Hawthorne, "How Great" music video.
https://essentialworship.lnk.to/mpfIhcn8RC!W&W