Two Pastors Become Homeless For A Week To Help The Poor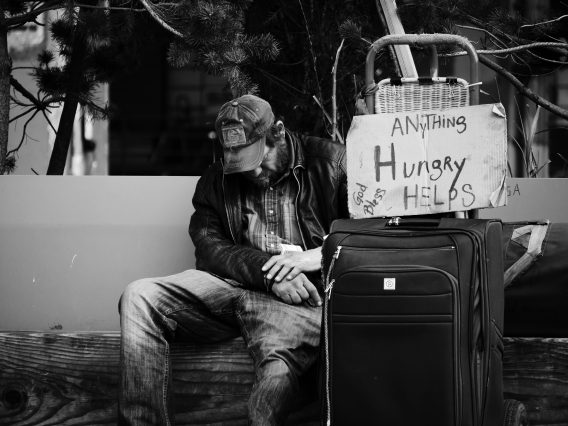 Jesus identified with the most marginalized in society when he declared "when you did it to one of the least of these my brothers and sisters, you were doing it to me."
Two Nevada pastors have taken the example and words of Jesus to heart by spending one week as the "least of these." Pastor Bill Muck, the senior pastor of Trinity Baptist Church in Sparks, and his friend Pastor Angelo Austria, pastor at New Life Christian Center in Reno, left the comforts of their homes to live on the streets of Reno.
Wanting to have a deeper impact on helping the homeless, the pastors chose to live among this vulnerable population to better understand them and the struggles they face.
"This is really a different world. You are bombarded with violence, hatred, anger, hopelessness, frustrations, drugs and alcohol, mental illness…I mean it's a different world," Pastor Angelo told the local ABC affiliate KOLO 8.
Strapped with only a bookbag filled with toiletries and a bible, the pastors were able to make connections with the homeless unlike before.  They realized that by becoming homeless, other homeless people would be more open with them.
"If I go to them as a clean-shaven pastor, driving a nice car, caring my bible, they're not going to open up to me," reflected Muck,  "But the way I look—the way they perceive me…they relate to me as one of them. And they have been opening up to us this week like I've never seen."
Although the pastors are grateful for their experience, it was not easy.
Muck acknowledged how exhausting his days on the street were.  The lack of sleep and navigating the dangers that came at night made this a very difficult experience.  "It was probably the hardest thing I had to do in ministry. It really was," Muck stated somberly.
Now that they have returned to their homes, they want to use their time on the street to address the needs of the homeless. 
"What I'm hoping for is to be able to engage with a lot of people that has (sic) a heart for the poor and needy, they just don't know what to do," said Austria.
The pastors are aware that there is no easy solution to the problem, but after their experience on the street, they are more committed to doing the hard work to help "the least of these."