Pastor Miles McPherson Leads Nearly 200 Churches In Talks About National Racial Divide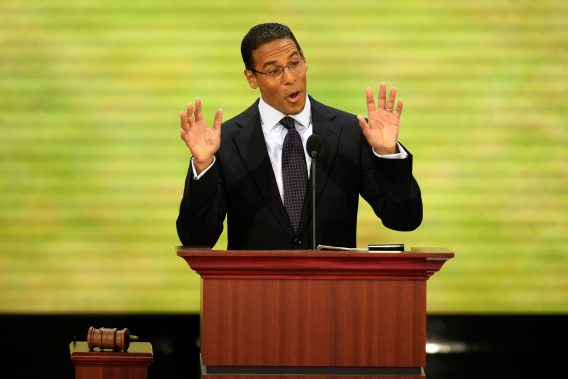 San Diego Pastor Miles McPherson has gathered close to 200 churches to engage in an important conversation about race.
The former NFL player turned lead pastor of Rock Church in San Diego, Calif. led a discussion called "A Race for Unity" which streamed to 192 churches and included over 2,800 participants from different ethnicities.
McPherson, who recently released the book The Third Option: Hope for a Racially Divided Nation aimed to get people to see past their differences.
"What side are you on? That's the question you'll get asked and you're going to have to decide or you have an option, one or the other," McPherson said, according to NBC San Diego. "The third option is different. The third option is, 'Well before we pick a side, let's understand what we don't understand.'"
Among those who spoke at the event were San Diego police Chief David Nisleit who explained why these types of discussions are important to help break down racial barriers that exist.
"We just have conversations and after a while, you don't even realize that you're breaking down those barriers. You realized, 'Hey, I'm no different from the person sitting across from you,'" he said, according to NBC. "Might be a black person, might be a Hispanic might be another white person but we're all the same. We all have the same dreams we all have the same goals we just want to live together in unity."
After the two hour event, McPherson took to Instagram to reveal his prayer for those who attended.
"My prayer is that you become a vessel of hope in your homes, classrooms, work spaces and community… don't be afraid to have conversations on race," the pastor wrote. "You've been equipped and you have Holy Spirit guiding you along the way. Now go change the country."
(Photo by Alex Wong/Getty Images)