Russell Wilson and Ciara Reflect On Faith On Trip To Brazil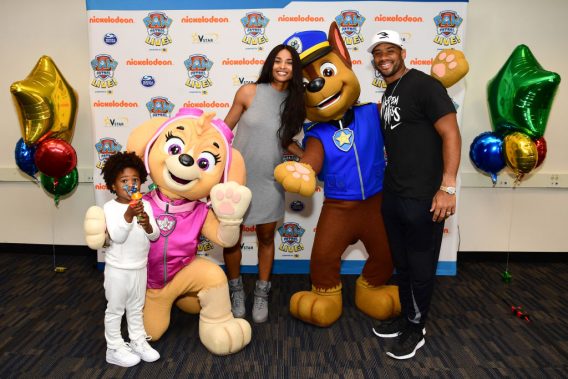 While enjoying some time with his wife in Rio de Janeiro, Brazil, NFL quarterback Russell Wilson isn't forgetting to glorify God.
Wilson shared some scenes from his helicopter ride with singer wife Ciara on social media recently. The helicopter hovered over the renowned tourist attraction, the Christ the Redeemer statue.
Wilson is known for sharing his faith and took the opportunity to do so on his Instagram video caption.
"Thank You Jesus!!! This Life is about You and Your Glory," he wrote. "I couldn't do this life without your unconditional love Jesus! #DateNight in the Helicopter w/ the love of my life in @Ciara in Brazil #Jesus#ChristTheRedeemer."
Ciara also posted a shot of her and her husband praying in front of the notable statue.
"A family that prays together…," she captioned the photograph on Instagram.
In a previous Yahoo report, Ciara spoke about how she and Russell had the same faith-based values, which contributed to the success of their marriage.
"It is a blessing that we both share the same vision and we really do believe that you gotta have God at the foundation," she said in a Yahoo report. "We both know that if it wasn't for Him we wouldn't be in the positions that we're in, we wouldn't have the blessings that we have. And so it all comes back to that."
There was once a time when Ciara prayed for a man like Russell.
"I remember telling my friend the kind of guy I wanted: a God-fearing man with a very fun spirit who loves kids and would really, truly care for me," she previously told Essence Magazine as their May 2016 CoverGirl. "I was very specific because I do believe you can have it all."
Russell previously shared that he believed that their relationship was anointed since its inception and shared their journey of abstinence.
"I asked her 'What would you do if we took all that other stuff off the table and did it Jesus' way, no sex? … I knew God had brought me into her life to bless her and for her to bless me, and to bless so many people with the impact that she has and I have," Wilson told Pastor Miles McPherson at The Rock Church in San Diego. "We're not going to be perfect, by any means. But He's anointed both of us and He's calling for us to do something special."
(Photo by Emma McIntyre/Getty Images for Nickelodeon)