Kirk, Tammy Franklin Reflect On Early Fears For Marriage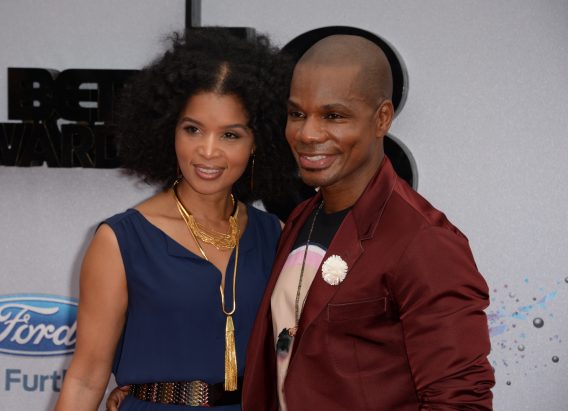 Kirk Franklin and his wife Tammy are reflecting about how God has worked through their union when celebrating their 23rd marriage anniversary recently.
Kirk, the gospel music executive, composer and artist, shared a special social media message for his wife on their anniversary recently. Kirk posted a part of their wedding video while admitting some of the fears that he felt over two decades ago.
"23 years ago, I made a decision that changed the trajectory of my life. My life was headed down a dark road… a road my father, and grandfather traveled down that did not reflect the type of man I desired to be," he said. "I was afraid I was going to fail like them. They were womanizers, absent fathers, and left no legacy for their children's children."
Still, he pushed forward in faith to begin a new life with Tammy.
"I stood next to this beautiful woman and her beautiful daughter, afraid I would fail them like I had been failed. But the man I desired to be pushed the man I was into the arms of the woman that possessed the key that would unlock that reality," he said. "I know there's a God, and His greatest gift to this earth is a woman. Happy Anniversary Tammy Franklin…you continue to be my key."
In her own Instagram message, Tammy admitted to her own fears before marrying Kirk. However, she credited the grace of God for allowing their marriage to flourish over the years.
"We were so young and scared but yet excited," she wrote. "We've grown so much over the years and by God's grace I'm so humbly thankful that we continue to choose to stay on this journey together‼️#23yrs#bythegraceofgod."
In a previous Instagram post, Tammy explained that the pair balance out their union with a lot of laughs.
"One of the ingredients to the success of my 22 year marriage (23 in January) is laughter. WE LAUGH A LOT," she wrote. "We are truly good friends. I feel the importance of balance is extremely needed in some Christian marriages."
(Photo ROBYN BECK/AFP/Getty Images)