Kirk Franklin Shares Lesson On Forgiveness After His Father Dies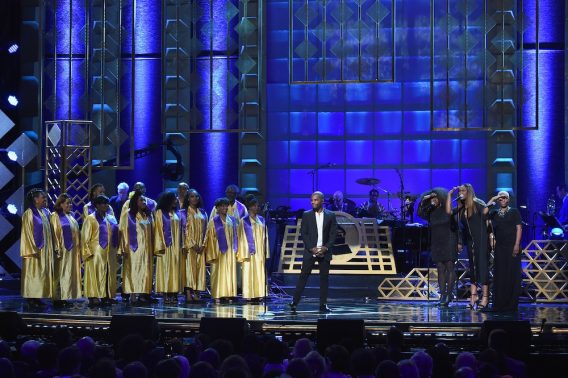 Kirk Franklin's biological father passed away this week which has caused the gospel music artist and record executive to reflect on the importance of forgiveness.
In a video posted to Instagram this week, Franklin opened up about the emotions that he felt after only reuniting with his father Dwight Allen one month before he died.
"So many emotions– being abandoned being adopted and when I got that call I knew I didn't want to continue living in that. So I fought past it, moved past it," he said. "I got on the plane and I'm so glad I did and sat with him. I just got a call tonight that he passed."
Even though Franklin' father did not raise him, the gospel music legend spoke about forgiving his father for the painful parts of his past.
"I just want to encourage anybody that may have a hard time moving in forgiveness. It's painful but it's necessary," he said. "It is necessary because they deserve it, you deserve it and both of y'all deserve the same grace that we all want God to give us. That amazing grace."
Franklin first took to Instagram last month to reveal that he once hated his father. However, learning that Allen only had months to live changed everything.
"Two days ago, I received an anonymous call that my biological father, who I never knew, has 3-6 months to live. I've lived my entire life hating this man," Franklin revealed. "He and my biological mother gave me up for adoption, and it left me never feeling good enough….to this very day. I took my hate for him and used it as fuel to be the best father I could be for my own."
Despite his upbringing, Franklin admitted he was wrong to harbor the feelings that he did.
"But what I did wrong, is I never took that fuel, and turned it into forgiveness….and that is wrong. Wrong for him, me, and the God I proclaim to represent," he admitted. "How can I preach what I don't practice. So I flew to Houston yesterday to do that."
For Franklin, it was important that his father leave the world with a son that had forgiven him.
"It's painful, it's a process, but how disappointed I would be in myself for this man to leave this earth without being forgiven. He deserves to receive what God gives me everyday," he said. "Pray for him, and for me. God this is hard…I weep as I write."
(Photo by Jamie McCarthy/Getty Images)