Jonathan McReynolds Reveals How Women Can Guard Their Hearts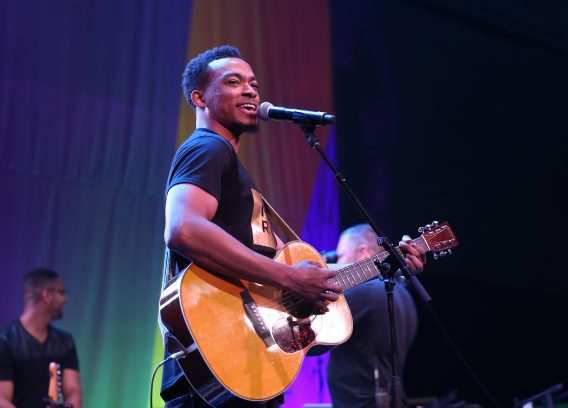 What began as a simple message encouraging women to guard their heart ended up as gospel singer Jonathan McReynolds defending his words in the comment section of his Instagram page on Sunday.
In the midst of differing opinions about McReynolds message and the way that he delivered it, the "Make Room" singer and author was able to explain why and how he believes women can protect their hearts.
McReynolds' initial message was a simple text image on Instagram stating, "Ladies, guard your hearts, Like we guard our freedom."
He captioned the image by writing, "help us help you help us help you help us."
A number of women questioned why messages about matters of the heart were typically aimed at them which began a number of debates. When one woman asked McReynolds how women can guard their hearts he offered some examples.
"Well, I'm no expert on relationships, but we guard our freedom by moving slowly, holding back some of the romance, considering options before being sold on anything that breathes. Bible says TO WOMEN in particular, not to wake love up before it's ready," he wrote. "I'm guessing respond with affection, only to commitment."
Despite the fact that some people received McReynolds' message as one-sided, the singer and songwriter made it clear that men have their own issues with love.
"I'm not saying men (in general) do it right. We are working thru a lot these days lol (SIC)," he wrote.  "I'm saying avoid some hurt, while we're doing it wrong."
The Grammy-nominated singer insisted that he wasn't trying to offend the women that follow him on social media, but protect them.
"In a land of 50 kings and 500 clowns, YOU MUST PROTECT YOURSELF! I firmly believe there are about 20 times as many queens as there are kings," he wrote. "..I will protect the women in my world, but by posting the warning, I'm trying to protect a few more."
With that said, McReynolds wanted it to be known that his attempt to protect women was not about enabling men.
"The point was to urge the women (who keep asking us to protect them not realizing this 'warning' is a form of protection) to protect what they value the most, as men protect what they value the most," he wrote. "It's getting almost a little insulting that all some see is me somehow enabling bad men. This is also one post in a litany of others that vary from male specific to non-specific."
(Photo by Rich Polk/Getty Images for BET)