Pittsburgh Holds Interfaith Vigil To Honor Victims of Synagogue Shooting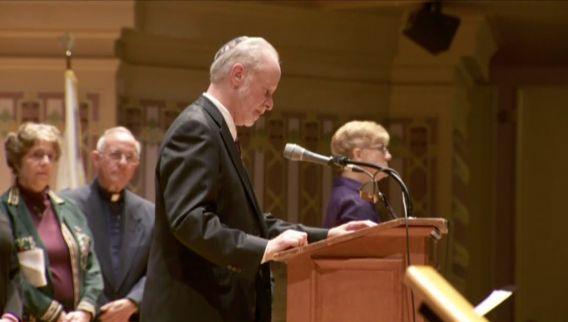 On Sunday night, the Pittsburgh community rallied together during an interfaith vigil held at Soldiers & Sailors Memorial Hall to honor the 11 victims of the Tree of Life Synagogue shooting.
Saturday gunman Robert Bowers opened fire on the synagogue, killing the innocent worshipers. The victims, whose ages range from 54 to 97 years old, were beloved members of their faith community and will be greatly missed.
"They've been fixtures there for as long as anyone can remember," said Jeffery Solomon who is related to two victims through marriage. "They were what we call 'shomerim,' people who guard the religion even for the rest of us who don't go all the time."
While speakers at the vigil included members of the Jewish, Christian and Islamic faiths, their message was the same: we must choose unity and love over hate and division.
The Tree of Life's Rabbi Jeffrey Myers, who began his remarks by quoting from Psalms 121 and 23, spoke to the power of love. 
"My texts, my emails, my facebook overflowed with love from strangers—people I've never met before. People who are not from the United States, but from all around the world.  Jewish, Christian, Muslim, all with the same message, 'We are here for you.'" Rabbi Myers stated somberly, "My cup overflows with love. That's how you defeat hate." 
Rev. John Welch, the Pittsburgh police Chaplin expressed his hope that this act of violence would not further divide Pittsburgh, but bring it together.
"Our goal in working together is to make sure that Pittsburgh is a place where we can triumph over terrorism and tragedy and where we can be the city of bridges that brings together what others want to divide. God bless Pittsburgh, God bless the Jewish community,"  Rev. Welch remarked.
This senseless act of violence came at the end of a particularly violent week. On Friday, Cesar Sayoc, Jr. was arrested for sending at least 12 explosive devices to politicians and public figures, including two former presidents and the form CIA Director.  
On Wednesday Gregory Bush attempted to enter into a black church to shoot people.  When his attempt was unsuccessful, he went to the local supermarket and randomly shot two innocent black shoppers.
(image via screengrab)