Heather Lindsey Overcomes Battle With Mommy Guilt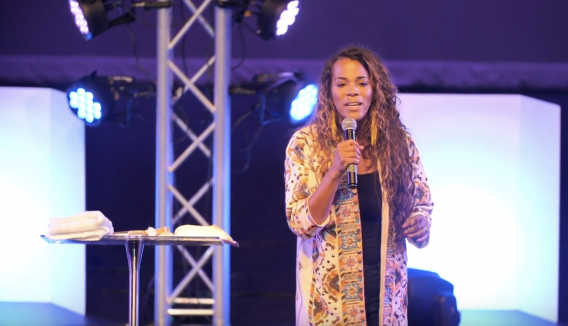 There's a phenomenon that exists for a lot of moms who feel bad for leaving their kids to go to work, relax or focus on themselves.
Heather Lindsey knows that feeling all too well. She recently explained how the enemy had been trying to take her rest by fueling the fire of mommy guilt.
"'The enemy is trying to steal your rest, Heather. He does this by trying to make you feel guilty for leaving your children (even though they're in amazing hands), stressed out or even causing division with your spouse,'" she wrote on Instagram. "The Holy Spirit spoke those words to me in the past before a trip away with my husband last year. I didn't even enjoy the trip in the beginning because I missed my babies so much."
Heather, the leader of Pinky Promise Ministries also leads The Gathering Oasis Church in Atlanta, Georgia with her husband Cornelius Lindsey. She explained why the enemy wanted her to stop resting and be filled with negative emotions.
"Satan doesn't want us to rest. He wants us to feel guilty, depressed, burned out and frustrated," she said. "He will literally attack you before a trip or during a trip so you won't enjoy it. I looked at my husband last week and I told him that we should be prepared and guard our hearts against any offense."
Heather and her husband recently took a vacation which she was intentional about enjoying despite tactics from the enemy.
"As I started to leave yesterday- I started to get sad. I missed my babies," she said. "But – I will see them in just a couple days. They are fine, loved and taken care of (including a bunch of pumped milk)."
Because of the time that she took for herself and her husband, Heather said she could be better in all aspects of her life.
"I need this time to focus on my hubby for a few days. And that's ok. I will return a better mommy, wife, preacher and CEO because of it," she said. "Cheers for not beating yourself up over REST. Your babies NEED to see that your marriage is healthy and strong."
(Photo: screengrab)