Bestselling Christian Author Falls Into Coma, Loved Ones Raise $70K In One Day After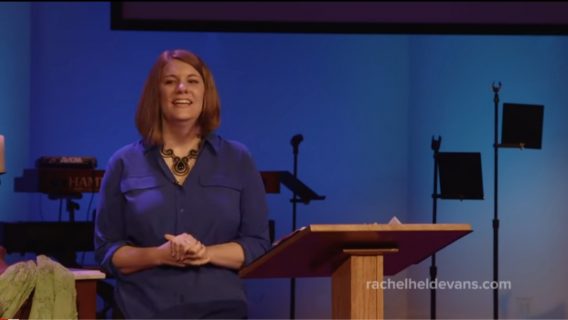 After news surfaced that bestselling Christian author Rachel Held Evans was placed into a medically induced coma due to unexpected complications from an infection, her loved ones set up a digital fundraiser that exceeded its $70,000 goal in one day.
Evans, the writer of the book A Year of Biblical Woman­hood, connected with readers six years ago when she wrote about the comedic experiences that she encountered by living like a woman who was alive during Biblical times. Now, many supporters of her book are showing love to her husband and friends by contributing donations, prayers and words of encouragement.
Her friends Sarah Bessey, Jeff Chu, and Jim Chaffee started a GoFundMe account with the blessing of her husband to help support the Evans family during this difficult time. They explained the magnitude of the situation to supporters.
"During treatment for an infection, our friend Rachel Held Evans began exhibiting unexpected symptoms. Doctors found that her brain was experiencing constant seizures," the GoFundMe states. "She is currently in the ICU in a medically induced coma while the doctors work to determine the cause and solution."
The fundraising account explained how people could support the author, her husband Dan and their children.
"As her friends, family, loyal readers, and people who love and care about her, this is one way we can help to support, Dan, Rachel, and their children as their lives have been upended. Medical costs are mounting," the GoFundMe states. "We want to help with those as well as all the accumulating expenses that even decent medical insurance won't cover. So many of us would love to do something tangible, like cook a meal or assist with child care, pay for gas to the hospital or clean their house. This is a way for us to gather around the Evanses, making that happen together from many locations around the world."
After exceeding their $70,000 goal in one day, the fundraisers thanked people for their support.
"The outpouring of support has been overwhelming. We've upped our goal in response to your generosity," says the message posted on the GoFundMe page. "Saying 'thank you' feels inadequate but seriously THANK YOU. #PrayForRHE."
For updates on her condition, you can visit her website, which is being managed by her husband at the managed by her husband as she recovers.
(Photo: screen grab)