This Pastor Has A Box Kit To Help Church Leaders Reach Thousands In Their Cities
One Tampa, Fla. pastor has started a movement to help Christian communities around the world love their cities outside of the four walls of church. Now he wants to help other ministry leaders do the same.
Tommy "Urban D" Kyllonen has been the pastor of Crossover Church in Tampa for over 20 years. A few years ago he started a series called Love Our City where he rallied members of the congregation to come together for volunteer opportunities where they meet and show love to members in the community. Those people are invited to church where a massive party takes place and results in thousands of new people coming to Christ.
The event captures the attention of businesses around the community who offer sponsorship opportunities, along with politicians and other people who come together from all walks of life.  Now, Kyllonen wants to teach other ministry leaders his strategy for creating the large scale event with a Love Our City package.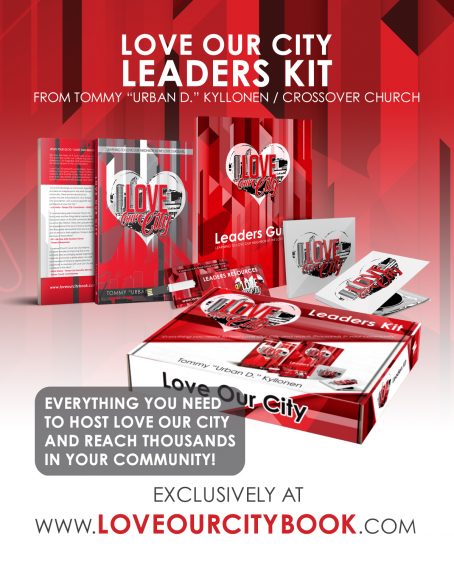 "The Kit includes details on how to vision cast the campaign, get corporate sponsors, set up your projects, raise up an army of volunteers and impact thousands of your neighbors," a description of the bundle on his website states.
Kyllonen revealed his inspiration for selling the box kit that he believes can help other church leaders bring thousands to God in their respective cities.
"It's been such an exciting thing and so many people that follow us have been asking us, how do we do that in our city," he revealed in a video obtained by Ambo TV. "So we decided to put together this box kit it gives you details of how you can reach thousands of people as well."
The bundle also includes a devotional book written by the preacher whose event has captured the attention of Tampa City Councilman Luis Viera.
"Love Our City brings our community together and plays an integral part in the North Tampa community. There are few sectors of our society that are untouched by it," the councilman said on Kyllonen's website. "As a Tampa City Councilman, I am a proud supporter and participant of Love Our City."
Christian Hip Hop artist KB explained how important the event was for unbelievers who were touched by the love of God.
"I've served alongside Crossover Church for many years and few things better capture the heart and mission of this faith community like the Love Our City initiative," he said. "These are a people who have experienced the love of God so profoundly that they gladly demonstrate that very love in acts of service to their neighbors. Tampa is better because of these efforts!"