This Brooklyn Pastor Wants to 'Bridge' New York City With a Prayer Initiative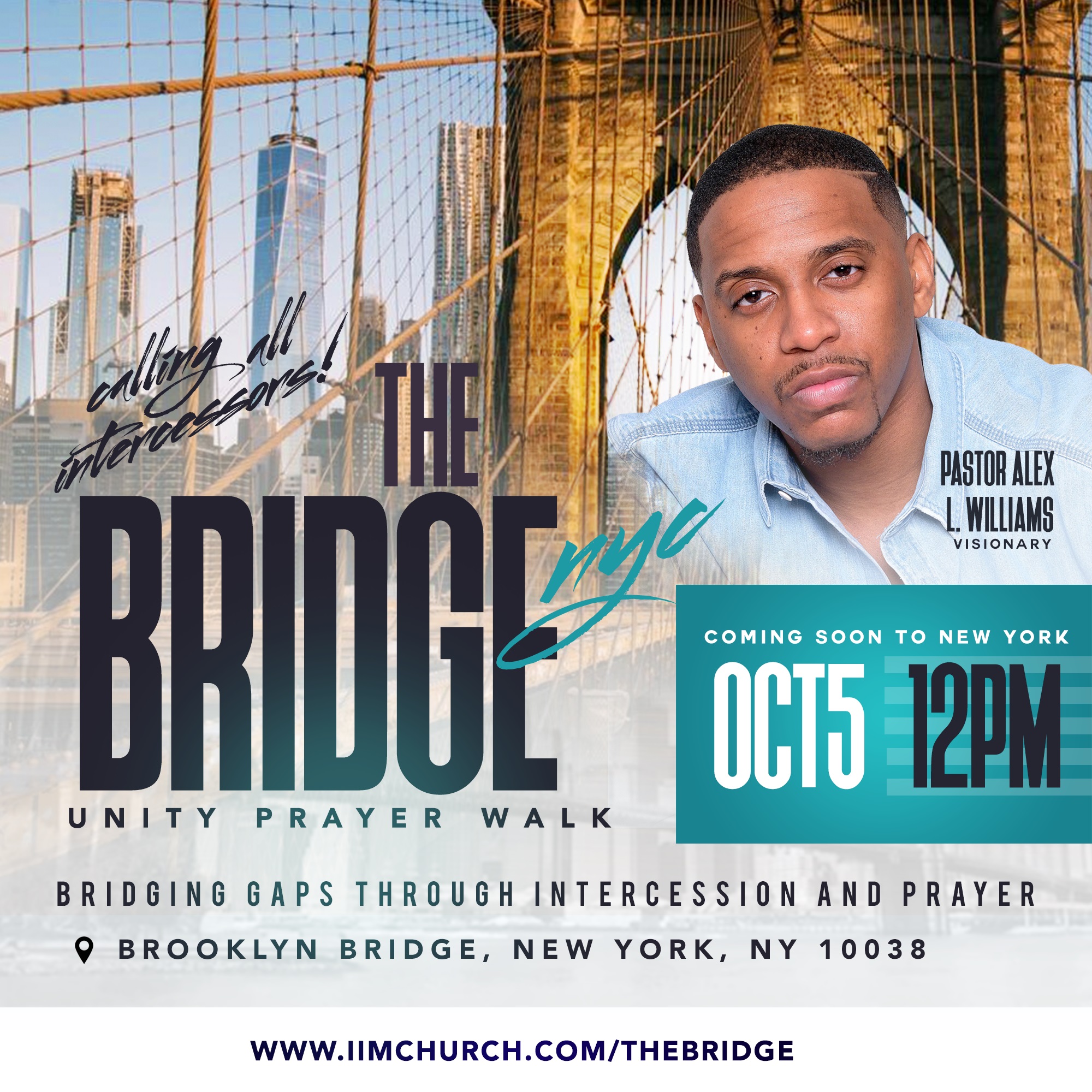 Every Monday followers of Pastor Alex Williams' Instagram page can expect an encouraging message in a segment he calls #WatchGodWorkMonday. Often filmed on a smartphone while he walks around his Brooklyn neighborhood, the inspirational word is one way he uses innovation to take ministry beyond the walls of the church.
Now, he hopes to bring his out-of-the-box approach to ministry to the Brooklyn Bridge. On October 5, 2019, Williams and his church Institutional International Ministries (IIM) will kick off "The Bridge," a prayer initiative that seeks to unify New York City.
"The goal of 'The Bridge' is to successfully begin Bridging Gaps through Intercession and Prayer in and for our communities,' reads a statement on the church's website. "We will walk together across the Brooklyn Bridge praying to off-set negative trends, statistics, and agendas in our city and bring unity…"
The Brooklyn-based pastor emphasized that "The Bridge" is an undertaking that is intentionally interracial, intergenerational and ecumenical. He wants people from all walks of the Christian faith to join together in prayer for the city.
"In a time in which our society is seemingly divided, I'm so excited about "The Bridge" event because it gives us the opportunity to break the chains of separation, bridge ethnicities, and denominations in the spirit of unity," Williams told Ambo TV. "Together, we plan to pray against…issues that are plaguing our city. Just as 1 Corinthians 12:12 says, 'We are all one body, with many members.'"
As the son and grandson of preachers, it is no surprise that this millennial pastor would end up working in ministry. Born in Jersey City, NJ, at age 13 he joined Institutional COGIC Int'l, the church founded and led by his grandfather Chief Apostle Carl E. Williams, Sr. His father, Bishop Carl Williams Jr., eventually became the Senior Pastor and led the congregation for seventeen years. As is the case with many preachers' kids (PK's), Pastor Alex served multiple roles in the church. He was the drummer, praise and worship leader, and Sunday School teacher.
It was during his father's leadership, Williams accepted his call to ministry in 2014. And in 2016 he was ordained Elder and Assistant Pastor of the church. After serving in that role for three years, this past January he was once again promoted, this time to Senior Pastor. Under his leadership the church became unaffiliated with COGIC (Church of God in Christ) and is now nondenominational.  The congregation also changed its name to IIM.
With a new name and new direction, Williams hopes to bring a new style to the way ministry is done. As a past guest on Ambo TV, he stated how his church focuses on rebranding itself in a way that is appealing to a broader community, yet consistent with their values.
"We decided in our church to brand our own stuff: Watch God Work," Williams stated during the interview. "And we wanted to make sure that it was appealing, but at the same time the message was relevant–but at the same time it spoke to who we are…and you can brand God and say 'hey I'm a king's kid.'"
The Bridge initiative is another way this PK expects to watch God work. Participants will gather at the Korean War Veteran's Memorial Park by 11:00 am, and start walking promptly at noon.
For anyone interested in attending or learning more about the initiative, you can visit  The Bridge's website.