The Royal Wedding's Bishop Rev. Michael Curry To Appear At Free Event At The Episcopal Divinity School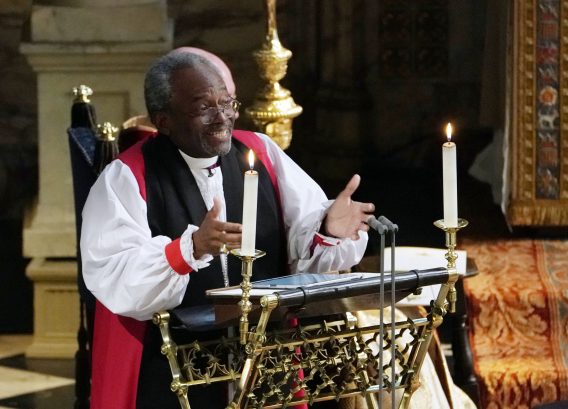 Rev. Michael B. Curry is gearing up to appear at the Episcopal Divinity School at Union Convocation next week.
Curry, the Presiding Bishop and Primate of the Episcopal Church, delivered the sermon at the royal wedding for Prince Harry and Meghan Markle last May. On Wednesday, he will be featured at the EDS at Union Inaugural Convocation.
The event will take place at St. Paul's Chapel located at Trinity Wall Street in New York City. After the convocation, a reception will take place.
One day before the event featuring Curry, Rev. Kelly Brown Douglas, Ph.D., will deliver the Dean's Address, "Toward a Just Earth: Courageous Faith in Challenging Times" at the James Chapel at Union Theological Seminary. A reception will also follow the event on Tuesday.
Both events begin at 6 p.m. and are free and open to the public, but require separate RSVPs to attend. Earlier this year, Curry assured people that he would be able to honor his speaking engagements after he revealed a prostate cancer diagnosis.
"After a variety of tests, consultations and conversations with my wife and daughters, I decided on a surgical treatment course," he wrote in a letter released by the church in July, according to the Episcopal News Service.
Despite the health news, Curry said things looked positive for his recovery.
"I am happy to say that the prognosis looks very good and quite positive," he wrote. "I have spoken with several others who have gone through this, and who have offered both encouragement and helpful advice."
The Episcopal leader called for prayers while he took some time off for the summer.
"I am very blessed with a wonderful family, a first-rate medical team, a great staff, dear colleagues and friends, a calling to which I have given my life, and above all a good, great and loving God in whose hands we always remain," he wrote. "So, do say a prayer. And know that I look forward to being back at my post in September."
For more information about the events taking place at the Episcopal Divinity School at Union Convocation, please click here.
(Photo by Owen Humphreys – WPA Pool/Getty Images)