Tammy, Kirk Franklin Share Inspiring Story About Mentoring Barber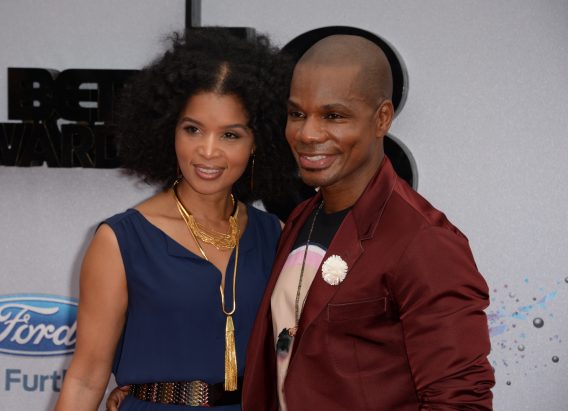 Tammy Franklin is sharing an inspiring story about how she and music executive husband Kirk Franklin touched one barber's life after a chance encounter over 10 years ago.
Brandon Bufford used to walk around with a smock that said "anointed barber" over a decade ago. The message caught Tammy's attention.
"Over 10 years ago I saw this young man walking in the mall wearing a smock with 'Anointed Barber' embroidered on the back. I complimented him and got his business card," she wrote in an Instagram message. "A few months later I took my son @craftby.caz (who was in elementary school) for a haircut. I was impressed by his skill but more so by his professionalism and the character he displayed in front of my son."
The young boy was also impressed and told his mother more about the barber.
"My son would report back that @iambrandonbufford was 'A man of God, and didn't swear like the other barbers…'" she recalled. "This made quite an impression. Years later my husband had an emergency and needed a barber…..And here we are years later, he not only keeps both my guys looking good, but a friendship/mentorship has formed."
Over 10 years later, Kirk honored Brandon with The Entrepreneur of The Year award at the Local Love Awards in Dallas, Texas this past weekend.
"Moral of the story… first impressions, character, consistency, professionalism, and integrity matter just as much (if not more) as skill," Tammy wrote.
In his own Instagram message, Brandon thanked the Franklins for their mentorship and friendship. He reflected on the award, glorifying God for the honor.
"Stand behind your 'WHY' and continue to allow God to use you in spite of the persecution, struggle, hate, envy and everything else that comes with the territory," he said. "You're built for it all!!!"
(Photo ROBYN BECK/AFP/Getty Images)