Praying With Accuracy, Not Accusation: Turbulence in Transition
by Candice Coates | 11:03 am, August 19th, 2019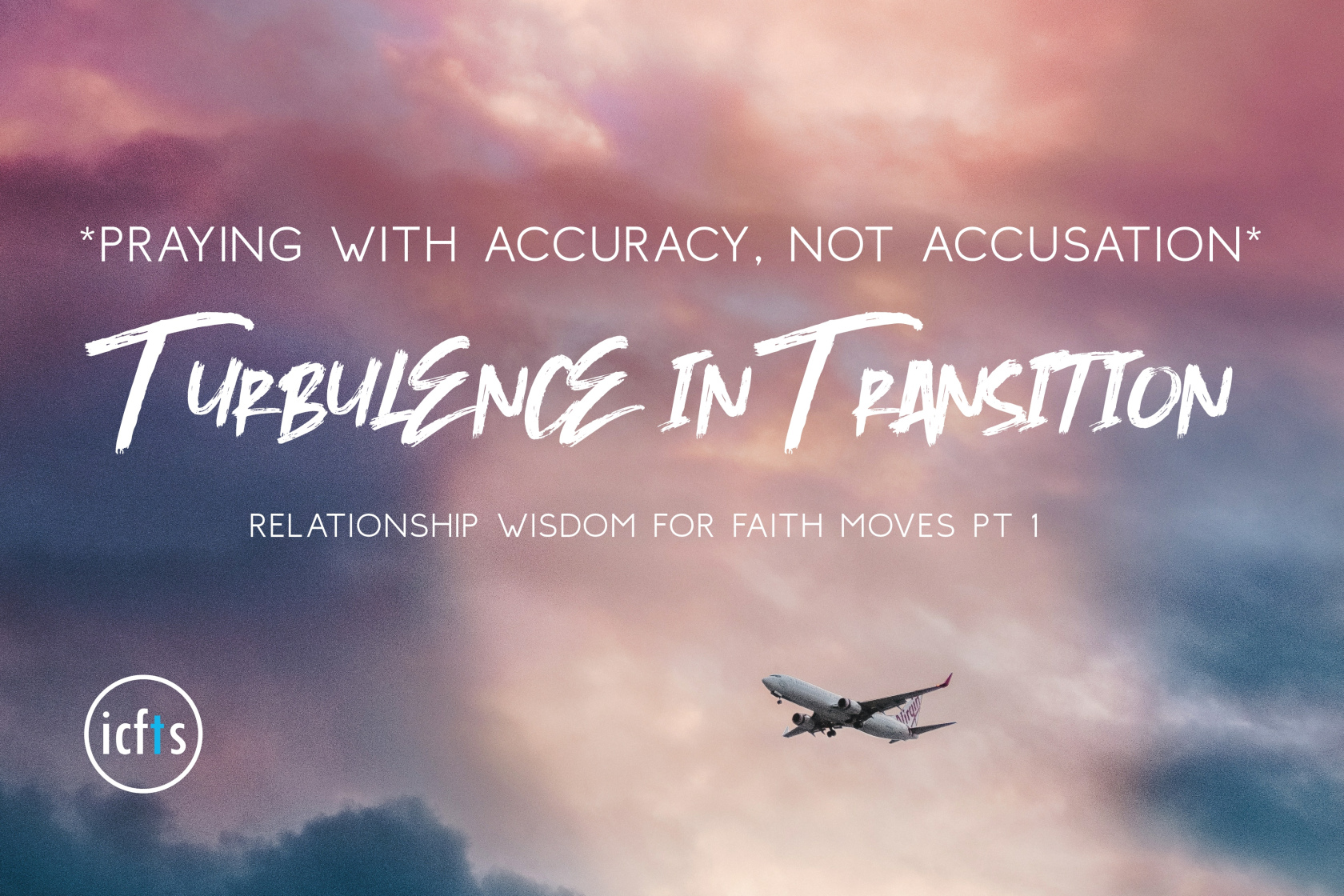 Change can be such a beautiful thing. Moving from one season of life into another, leaving one position at the workplace in order to lay claim to a more rewarding position, stepping out of the realm of singlehood to embrace that of a family, is glorious change. And the list goes on.
Unfortunately, many times when we are offered the chance to embrace life redefining change brought on by accepting transition through the guidance of the Holy Spirit, we inevitably run into the turbulence that shakes our current relationships to their very core.
The truth is with the turbulence of transition and change comes the bitterness of pain in some of our existing relationships, be they familial, friendship, or romantic.
Sometimes these are growing pains that draw us closer to our loved ones. Other times they are pains that push us away with the sharp barbs of rejection and disapproval.
What do we do when we face such shaking when the wounds caused by a loved one's rejection cut us deeper than our marrow? What do we do when their inability to show up for our victory or their seeming apathy leaves us in the depths of disappointment? What do we do when their words cause our hearts to harden?
We learn to pray, not only for ourselves but for those who have hurt us in times we had hoped they would celebrate us. But how should we pray for them?
We learn to pray for them with accuracy and not accusation.
POWER OF PRAYING WITH ACCURACY
What is it to pray with accuracy? To pray with accuracy is to pray from the truth. It seems simple enough but we must then ask the question what do we know about the truth? Is the truth rooted in our perspective and experience or is there more to it?
The word of God says in John 8:32, "that we shall know the truth and the truth shall make us free." Our freedom and our relationships come from honoring and respecting the truth from the perspective of Truth Himself, which is Christ. Christ's truth always comes from a position of mercy which is rooted in His grace even if we've been wrong.
That truth may say that a relationship needs to end as a result of certain actions, or that truth may tell you that it needs to mend but the point remains that we need to allow the truth to reign in all of our praying and doing even if that reigning means giving up our seeming right to be right in our anger.
KNOWING IS ONE THING, DOING IS ANOTHER
We need to more than know the truth in our turbulent circumstances. To more than know the truth is to allow the truth to rule in every situation that we are walking in. It is to allow what Christ is truly saying about our circumstances and wounded relationship have the first and final say.
PUTTING ACCURATE PRAYER INTO PRACTICE
So how do we pray in truth and accuracy? First, we have to remember that we all have sinned and fallen short of the glory of God (ROM. 8:23). None of us is perfect and for every person that has wronged us, there's some person that believes we have wronged them.
With the same zeal that we seek mercy and grace in forgiveness when we have fallen short, we too need to be willing to give that to those who we believe have wronged us.
We also need to realize that we need to approach our Brothers and Sisters in Christ and even our Neighbors who do not yet know Christ with grace, humility, and mercy knowing that we too could fall into the same kind of trap of being snared by our falling yet still wanting mercy.
But to have mercy we must be willing to give that mercy and grace to others.
PRAYING WITH ACCURACY NOT ACCUSATION
Learning to pray with accuracy not with accusation especially when praying for members of the body of Christ who have wronged you is to pray for them as if they were you and you were the one who caused the offense. It's to allow a positional role reversal, quite like Christ did for us when He bore our sin and shame and gave us His righteousness and position with God the Father.
We are to pray for those who've hurt us as we would pray for ourselves; seeking mercy, seeking restoration, seeking grace. Praying with accuracy is to pray from a place of advocacy, to do unto others as you would have them do unto you (LUKE 6:31).
The Bible says where the spirit of the Lord is there is liberty that means we're the Lord is able to reign there is freedom. Our Lord is the Truth.
Let the Truth reign in every circumstance and every situation. Let accuracy guide your prayer posture and not accusation and you'll be liberated even if you still have certain feelings about certain situations and the people who caused or are involved in them.
You can still operate and deal with them from a place of peace and wholeness as the Lord redeems and heals you and gives you beauty for ashes while you travel through the turbulence of your transition.
~Dream. Imagine. Believe. Do. CONQUER!
-Candice Coates is an author, blogger, and contributor to Ambo TV.  This article originally appeared on her website www.icameforthesoup.com