Pastor Touré Roberts Gets Real About Struggles Post Surgery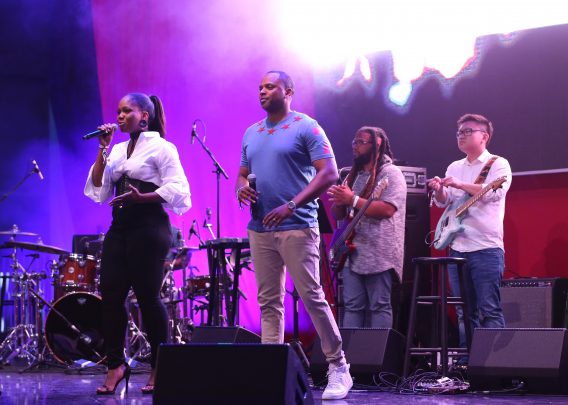 Pastor Touré Roberts is used to helping other people get through tough times, but now he is being transparent about his own recent struggles.
The pastor of The Potter's House at One LA recently had surgery to repair his tricep which he admits has been anything but easy during recovery.
"The pain has been constant, my energy diminished but my gratitude higher than it's ever been," Roberts admitted in an Instagram post Sunday.
The preacher admits that he wasn't excited to share his struggles with the world on social media.
"I almost didn't post this. I prefer posts that show me in my strongest moments," he wrote. "Powerful preaching, cool fashion, stellar grooming or just riding on the highs of life. But the truth of the matter is life isn't always like that. Especially a life that is designed to empower and uplift the masses, even those whose situations seem hopeless at times."
Roberts is used to preaching from a pulpit and explained what he is learning from having to take some time away from it to heal.
"I have to with discipline walk out this process of restoration, which includes being absent from one of the places I feel the most powerful – the anointed pulpit. There are very few things I enjoy more than lifting lives week in and week out with the words God sends through me with life-transforming results," he wrote. "Now I myself have to pause, rest, receive and get restored my own self. So many thoughts in my head, and feelings about this whole ordeal, but one thing I know, is I'm coming back better. Stronger, clearer, more powerful, and more qualified than ever."
The pastor said he is thankful for the little things and that he was grateful for his wife co-pastor wife Sarah Jakes Roberts, church staff and supporters who have been praying for him. In spite of the struggles, Roberts is looking ahead to all that healing will bring him.
"Sometimes life slows you down in order for you to perceive and appreciate the beauty that passes by you every single day. It's a struggle but I'm cool with that," he wrote. "But mostly – I'm excited for the resurrection. Thank you for your prayers, your love. I'm healing well and the surgery went better than expected."
(Photo by Rich Polk/Getty Images for BET)