Pastor John Gray Gets Vulnerable In Latest Book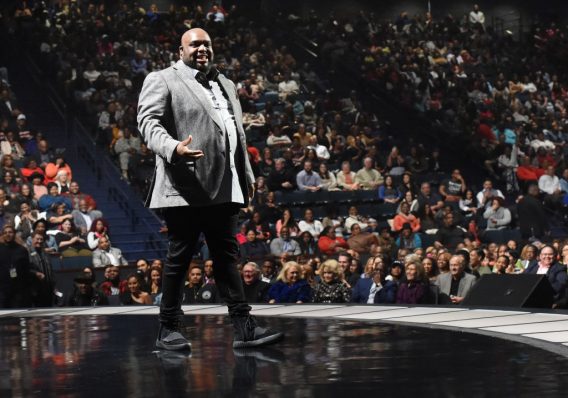 Pastor John Gray has a new book in stores which he says is a transparent and vulnerable project.
Gray, the senior pastor of Relentless Church in Greenville, S.C., released Win from Within: Finding Yourself by Facing Yourself on Tuesday, which he hopes can help people on their journey to healing.
"This book is as transparent as I can be-and I hope my vulnerability will be an agent of healing in the hands of Jesus for all who read it," Gray wrote on Instagram.
The Bible-based self-help book helps people navigate their inner struggles to become better versions of themselves, according to an Amazon description of the book.
"He offers biblical lessons to aid in combating bad habits and limiting patterns so that the best version of ourselves emerges. Win From Within gives practical application to the story recorded in Genesis of Jacob wrestling with the man at the River Jabbok, and through it readers will learn how to become the persons they were created to be," the description states. "The persons God intended each of us to be develops as we face our inner battles."
Gray uses his own life experiences and the experiences that he gained after years of counseling others as a minister to write his latest work. In his own words, Gray explained his reason for using the story of Jacob as a foundation for the book.
"In this latest book, I want to help readers identify how best to handle the most difficult, challenging and yet necessary battle that we all face – our inner struggle to overcome the worst versions of ourselves," Gray said on his website. "Jacob spent much of his life running and hiding from himself. At a certain point we, like Jacob, cannot run from our true selves anymore. We must stop and face ourselves if we are to become great."
(image via getty)