Pastor E.Dewey Smith Shared Prophetic Word With Morehouse Grads Before Billionare Wipes Out Loans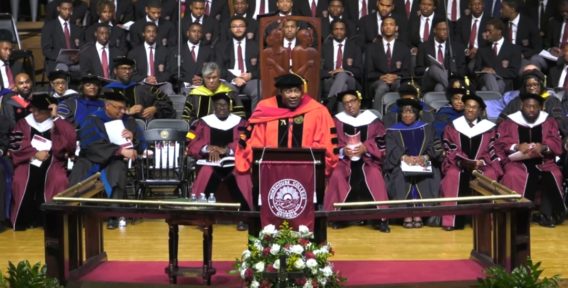 One day before billionaire Robert F. Smith told Morehouse College graduates that he would pay off all of their student loans at their commencement ceremony, Pastor E. Dewey Smith shared a prophetic word about the life-changing events.
Smith, the senior pastor at The House of Hope Atlanta and The House of Hope Macon, was the baccalaureate service speaker at the men's college in Atlanta on Saturday. It was there that he shared a divine word that students would not have to worry about their student debt, jobs or living situations.
The pastor said he had no idea that the very next day, another Smith would announce his decision to pay off the students loans for the entire graduating class which is worth an estimated $40 million.
"On behalf of the eight generations of my family that have been in this country, we're gonna put a little fuel in your bus," the investor and philanthropist told the 400 graduates according to FOX 24 reports. "This is my class, 2019. And my family is making a grant to eliminate their student loans."
While preacher Smith said he did not know the investor's plans, he believes God prompted him to share the timely word with graduates.
"I'm convinced that it was a spiritual, divine moment and I was just the spokesperson. I believe I was speaking what God wanted me to say to those students," Smith said. "I had no idea in 24 hours that was going to happen."
As a Morehouse graduate, the pastor could identify with the men who he shared the word of God with.
"I was out of school for about a year when I was in college because I didn't have the finances, so I knew how difficult the struggle was," said Smith. "To have 400 young men that will be able to pursue their dreams without having that weight on them, I think it' absolutely massive, and I hope it challenges others with means of wealth to do the same."
(Photo: Screen shot)