NFL's Brandin Cooks Using Platform To Share Scripture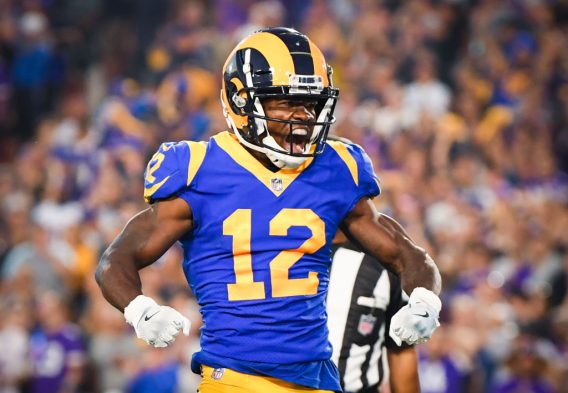 When Brandin Cooks isn't scoring touchdowns, the Los Angeles Rams wide receiver is using his social media platform to spread the word of God.
Cooks often posts simple tweets which happen to be scripture or inspired by it. During the month of October, the 25-year-old NFL player has paraphrased Bible verses on Twitter like "Lord is near to all who call him" and "Lord says… My grace is sufficient for you for my power is made in your weaknesses" almost daily.
NFL fans who have been following Cooks' career closely may not be surprised to learn about his profession of faith. Earlier this year, Cooks was a wide receiver for the New England Patriots who played in Super Bowl LII against the Philadelphia Eagles.
However, Cooks suffered a head injury in the first half of the game, which resulted in him having to miss the rest of the Super Bowl. In the midst of the trying circumstances, Cooks gave God the glory.
"Whatever you are up to God I know it's for your glory! #thankful," he wrote.
On social media Cooks refers to himself as "The Archer." His touchdown celebrations consist of fake arrows being pulled out from behind his back.
In a  previous Boston Herald report, Cooks explained how the arrow relates to his faith.
"It comes from Psalms 144:6: 'Send forth lightning and scatter the enemy; shoot your arrows and rout them,'" he said. "It's just one of those things that my faith is the biggest part of my life and I feel like the reason why I am where I am today with the gifts that I have."
When fans see him doing his unique celebration, Cooks said he hopes they remember God.
"So it's just another way to be able to glorify God rather than just pointing to the sky [after a touchdown]. Just bringing a unique way, so my hope is when fans see me, they see God in me," he said. "That's the biggest part of it all."
(Photo by Harry How/Getty Images)