Lauren Daigle Explains Telling God 'Don't Ever Make Me Sing Christian Music'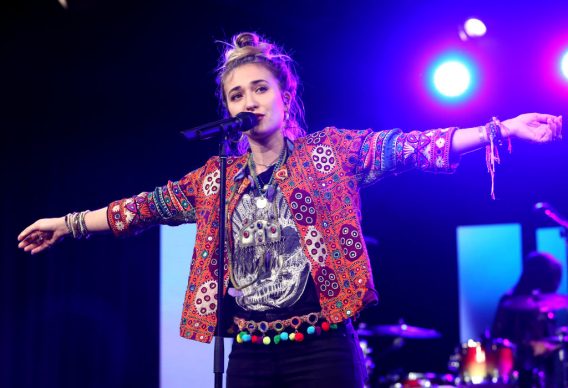 Lauren Daigle didn't always want to sing Christian music. In fact, the singer asked God not to let her be a part of the genre.
Yet, the 27-year-old Louisiana native made Christian music history recently when she became the first artist to top all five of Billboard's Christian charts simultaneously with the release of her second studio LP, Look Up Child. Looking back at things, Daigle explained why she didn't want to be considered a Christian musician.
"I remember I would bargain with God: 'Don't ever make me sing Christian music.' Like, 'I am not about it," she told Billboard in a recent interview. "I'm not going to sing Christian music. It's lame, it's cheesy.'"
Everything changed when the singer-songwriter was diagnosed with an autoimmune illness called cytomegalovirus at the age of 15. Daigle was not able to leave her home much for two years which she explained was a time that God spoke to her.
"I would see all these visions of stages or awards or tour buses," she said. "I feel like God uses your imagination to speak to you."
Since then, Daigle has attempted to break into the mainstream music industry and even auditioned for the nationally televised singing competition American Idol on multiple occasions. Still, she never won or became a top finalist on the competition which her mother reminded her may have been God's plan.
"My mom said, 'Are you going to listen to the no of man or the yes of God,'" Daigle recalled her mother saying. "And there's something about that statement that shook me."
Not long after what seemed like losses, Daigle was signed to Christian music label Centricity Music. However, it took time for the singer-songwriter with soul and jazz undertones to develop her voice in the industry that was filled with pop and rock tunes.
"I got to Nashville, and we started writing all those lame, cheesy songs, and I was like, 'I cannot deal,'" she admitted. "I went to my label, and I was like, 'I love you guys, I love this, but … I am craving jazz.'"
The label introduced her to jazz drummer Paul Mabury who helped her produce her first album How Can It Be in 2015 which helped Daigle ultimately find her voice. Since then, Daigle has been touring with some prominent worship bands like Hillsong United.
While her musical journey wasn't always simple, Daigle insists that the basis of her faith is.
"I'm just a lover of Jesus, it's that simple," she said.
(Photo by Jesse Grant/Getty Images Getty Images for NAMM)