Cora Jakes Coleman's Aging Challenge Highlights Infertility Battle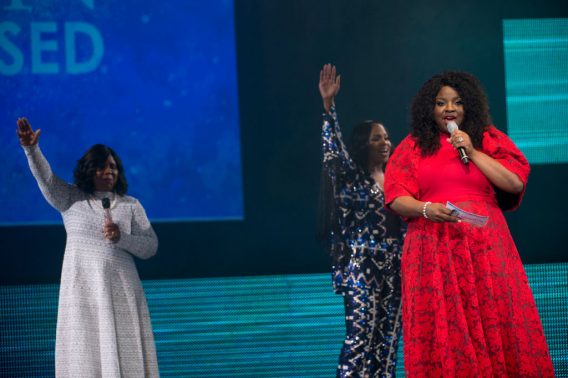 Cora Jakes Coleman is giving the viral "How Hard Did Aging Hit You" challenge her inspirational twist.
Countless people are posting 10-year-old pictures of themselves next to current ones to reveal their transformations. For Cora, the daughter of Bishop T.D. Jakes who serves at The Potter's House church in Dallas, Texas, that transformation is more than a physical one.
In an Instagram message, Cora shared an image of her and her husband Richard Brandon Coleman from 10 years ago and another recent one. Along with those pictures, she shared a touching message about how the couple has made it through the struggles of infertility.
"What ten years does. Two failed IVF cycles later," she wrote." Two beautifully chosen and adopted children later. Four foster children lost later. Seven years of marriage later."
When Cora looks at the pictures separated by time, she sees ferocious faith.
" Several hospital visits and doctors visits later. What I see in these pictures is the weight we carried then versus the weight we carry now and the fact that no matter what we still stand together and smile," she wrote. "#howharddidaginghityouchallenge#relationshipedition ♥️ We made it babe I love you!! @skiiventura!! #ferociouswarrior #ferociousfamily#ferociousfaith."
Cora has been transparent about her fertility struggles for some time. In a previous interview with Fighting Infertility For Colored Girls, she admitted how heartbreaking it was to hear that she would deal with infertility at the age of 22.
"It was almost like once I heard I was going to have struggles with conceiving a child, I gave up on everything else that I wanted to do," Cora previously said.
Instead of letting those trials keep her down, Cora said she wanted to help people with her testimony.
"Well, I wanted God to be able to use my heartache for ministry. I felt like, well Lord, if I'm going to go through this war, let it be to help someone else — for His glory," she said. "The enemy held over my head, for a long time, with my battle of infertility. I had to say, 'Lord, I'm heartbroken, I'm devastated but if you can use this to help someone else, if you can use this to speak life into someone else, then I'll be a willing vessel.'"
(Photo: Cooper Neill/ Getty Images)