Bishop J Drew Sheard Is Honored With His Own Street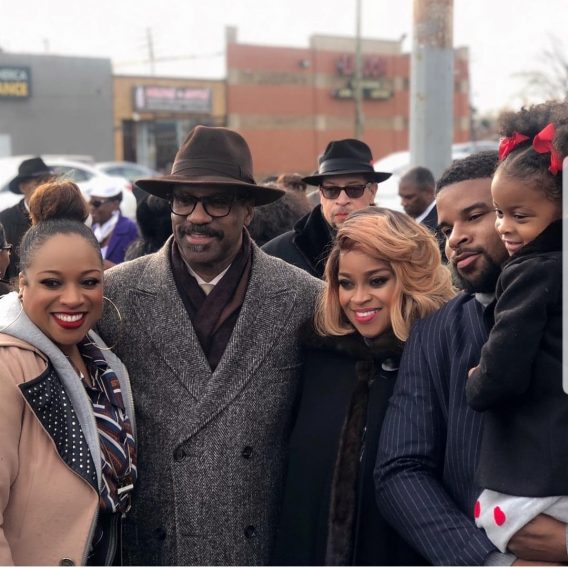 A new street in Detroit called Bishop J. Drew Sheard Blvd was unveiled on Sunday in honor of a well-known COGIC pastor who has made strides in his community.
Bishop J. Drew Sheard, the pastor of Greater Emmanuel Institutional in Detroit, Mich., expressed his gratitude for receiving the high honor of having his very own street in the city he calls home.
"I am so grateful and humbled by this opportunity. Thank you city of Detroit and city Council for this opportunity," the pastor wrote on Instagram Sunday. "GEI you make things so memorable. I'm grateful for you."
Sheard's wife, the renowned vocalist Karen Clark Sheard who is best known for being one of four singers in the trailblazing gospel singing group The Clark Sisters, also expressed her excitement for the honor.
"So Godly proud of my hubby Bishop Drew Sheard," she wrote on social media. "Honored him by naming street after him."
Kierra Sheard, the gospel music powerhouse who also happens to be the esteemed preacher's daughter, gushed about her father and his accomplishments as well.
"He's such a game changer. Thanks to the City of Detroit, Brian Banks, and the City Council for such an amazing opportunity," she wrote on Instagram. "This man loves God and is dedicated to the people of the community and geicogic! You inspire so many of us with your life, faith and not just your words. We celebrate you today."
In a previous conversation with Black Gospel, Sheard spoke fondly about the city of Detroit. When much of the U.S. was suffering from a recession from 2007 to 2009 and the lasting impact after, Sheard recalled the resiliency of his church and city.
"I kept telling the people, 'We're not participating in the recession. We might face some difficulties and challenges, but they're only temporary,'" he recalled.  "'We're not participating in the recession.' It got tough at times but God saw us through, and God honored what I was teaching the people."
These days, Sheard's church is referring to him as, "a generous man who empowers families and more!"
(image via Bishop Sheard's Instagram page)