5 Pastors That Also Make Great Worship Music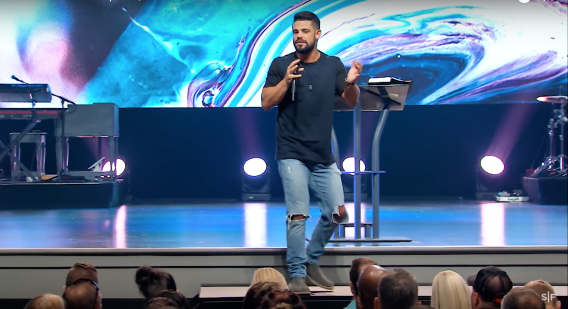 The power of great preaching and great worship music is undeniable. There are many people gifted at both preaching and music.  Ambo TV has compiled a list of five people or duos that make great music while also pastoring.
1. Steven Furtick
Pastor Steven Furtick is leading the way for next generation preachers. His sermons are engaging, innovative, and more importantly, they spread the gospel to believers of all ages.
Each week people flood into Elevation Church in Charlotte, North Carolina where he is the lead pastor.  They even have an online church for those who can't attend in person.
Pastor Steven hasn't always been a preacher, however. Prior to becoming the lead pastor at Elevation Church, he got his start as the worship team leader at Christ Covenant, a Baptist church in Shelby, North Carolina.
Even now he has not given up his love for music. He co-writes songs for Elevation Worship, the musical group for his church. Their most recent project is called There Is A Cloud (Live).
2. Travis Greene
Pastor Travis Greene is the lead pastor of Forward City Church in Columbia, South Carolina. Founded in 2016 with his wife Pastor Jackie Greene, Forward City describes itself as a church that "provides a place of Freedom that eliminates cultural barriers."
While Greene can be seen on Sundays preaching dynamic sermons to a growing congregation, he is also a gospel artist. His breakout hit "Intentional" on his 2015 album The Hill was followed by a second successful song "Made A Way." His musical talent has allowed him to perform all over the world, including the inauguration.
His latest project Crossover: Live From Music City was released in 2017, and includes the favorite "You Waited."
3. CeCe Winans
Pastor CeCe Winans is the best selling and most awarded female gospel artist of all time. This should come as no surprise when considering the immensely talented family she comes from.
Her five brothers were well known gospel artist before she started her career as a singer for PTL (Praise The Lord) with Tammy and Jimmy Bakker. Later she and her brother BeBe Winans rose to fame as a dynamic duo before she launched into a solo career.
Although Winans released her latest album last year and won two Grammys for it, the majority of her time is dedicated to co-pastoring the church Nashville Life with her husband Pastor Alvin Love II. Her children also serve as leaders in the church geared largely toward millennials.
4. David and Nicole Binion
Pastors Nicole and David Binion have created great Christian music for years. Their latest project Dwell (A Live Worship Experience), released on August 3, 2018, is a bound to be another classic from them. They have teamed up with other well known gospel artists to produce a worship experience sure to bless listeners.
The Binions are incorporating the role of pastor into their lives with the new church plant Dwell Church in Dallas, Texas. On their website they shared that the "more we have sought the Lord and sought wisdom from spiritual mentors in our life, the more we have begun to open our hearts to the idea that God is calling us to pastor a movement that will be the foundation for all He has for us to do in this new season."
5. William McDowell
Pastor William McDowell is the writer of many worship songs we have come to love such as "I Give Myself Away," "Withholding Nothing" and "Send the Rain." The power of his music comes from its ability to refocus our attention on God so that we our hearts are prepared for revival.
After experiencing success on the musical side of ministry, Pastor McDowell felt God leading him to start a church. In 2014 he started Deeper Fellowship Church in Orlando, Fla., which was initially a small core group of people that met once a month at his home.
The church has since grown out of his home and holds two services on Sunday. If you can't make it to service, you can listen to his sermons on their weekly podcast.
Pastor McDowell still creates music. He released his latest album Sound of Revival II  last year, a follow up to his successful album Sounds of Revival. He also recently authored the book It's Happening.
(image via screengrab)