Yvonne Orji Is Bamboozled By Jesus In New Book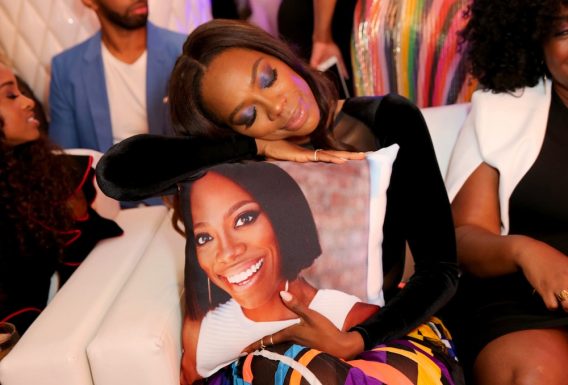 Actress and comedian Yvonne Orji has been bamboozled by Jesus. Now she wants to tell the world about it.
The "Insecure" actress is releasing a new book called Bamboozled by Jesus: How God Tricked Me Into the Life of My Dreams (and 20 Lessons I Learned Along the Way). In it, she will share 20 lessons that she has learned from a Christian perspective.
"Bamboozled by Jesus is described as a frank and fresh advice book, filled with one woman's authentic journey to understand her life and the nuggets of wisdom she's uncovered along the way," a description of the book on The Hollywood Reporter explained. "Orji covers 20 life lessons gleaned from her own experience, her family and the Bible — from how to save for a rainy day to building the ark before the flood, from thinking outside the box to realizing you're not special (while instead making yourself available)."
Throughout her career, Orji has been vocal about her faith and even has a podcast called Jesus & Jollof with Nigerian writer Luvvie Ajayi. On the podcast, the pair discuss their faith and life.
In one episode, Orji explained how she went through a time of depression that began to take a toll on her. Still, she was able to see God in those moments.
"I was literally looking depression in the face. I could have let it take me out but it was just like, 'God I've done everything as right as I could,'" she recalled. "'I'm even helping other people live out their dreams when I don't even have my dream yet. But I'm never going to be stingy I'm always going to be a giver.'"
Orji didn't even have enough money to make it to church, but recalled how God showed up for her anyway.

"I said 'God if you want me to volunteer at the church I need gas money.' And there was some times where I only had enough money to get to church or to get to the Bible study," she revealed. "I was like, 'God somebody is going to have to bless me with money to get back.'"

The actress received the blessing that she needed.
"Each time somebody on Facebook would be like, 'hey God put it on my heart to give you $200 in your Paypal,'" she said. "I promise you."
(Photo : Rachel Murray/Getty Images for Bumble)