This Unique Retelling Of Jesus' Life Coming To T.V.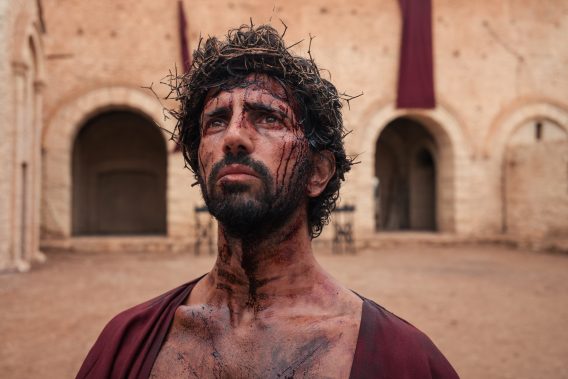 A new series about the life of Jesus Christ is coming to t.v.
The History Channel is gearing up to present an 8-part series called JESUS: HIS LIFE. The show is tapping some of the most recognized names in and around the Christian community for an epic retelling of the life, death, and resurrection of Jesus Christ.
Among the faith leaders and theologians that will appear on the series are Father James Martin, Joel Osteen, Reverend Gabriel Salguero, Dr. Ben Witherington III, and Bishop Michael Curry.
The History Channel released a statement explaining why the show is unique.
Each of the eight chapters is told from the perspective of different biblical figures, all of whom played a pivotal role in Jesus' life including Joseph, John the Baptist, Mary Mother of Jesus, Caiaphas, Judas Iscariot, Pontius Pilate, Mary Magdalene, and Peter.
"Each figure takes a turn guiding viewers through the emotional and epic story of the most famous man in history, through his birth, death and resurrection, all conveyed through a combination of scripted drama and interviews with prominent religious and historical experts," said the statement obtained by Ambo TV. "Utilizing some of the world's most respected Biblical scholars, historians, faith leaders and theologians, the series weaves together the canonical Gospels, historical sources and cultural context to create a complete portrait of Jesus – the man and the Messiah."
Mary Donahue, the SVP of Programming and Development for HISTORY, called the series that will air for four weeks leading up to Easter powerful.
"Jesus: His Life' brings together some of the world's top scholars, historians and faith leaders from diverse ideological and theological perspectives to tell the story of Jesus in a new way," said Donahue. "Viewers will see and experience the life of Jesus as never before, through this powerful and thought-provoking portrait of a man who is one of the most influential people in human history."
The series premiere of JESUS: HIS LIFE will take place on Monday, March 25 at 8pm ET/PT with two back-to-back episodes.
(Photo: Greg Barnett as Jesus Christ in HISTORY'S "Jesus: His Life." Credit: José Sarmento Matos /History)