This '90s Actress Glorifies God After Being Cast In Megachurch Pastors' ABC Sitcom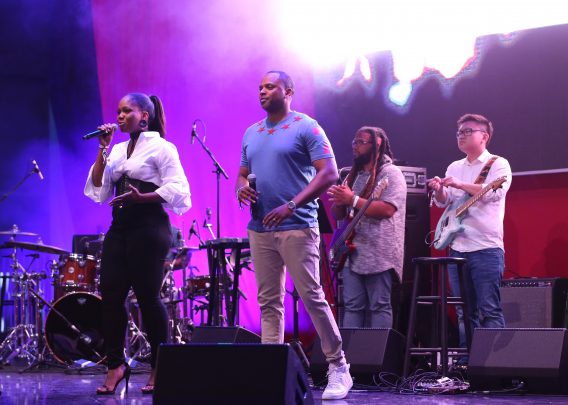 Alexis Fields is praising God for being cast as a series regular in married Pastors Sarah Jakes and Touré Roberts' upcoming sitcom based on balancing their blended family.
The co-pastors of The Potter's House at One LA and The Potter's House Church of Denver are executive producing the pilot for ABC which will also be produced by actress Kerry Washington. Saladin K. Patterson (The Last O.G., The Big Bang Theory) has signed on to serve as a writer for the project.
Now that Alexis has been cast in the pilot, she is praising God. The actress rose to fame as a 90s actress in t.v. sitcoms like "Moesha."
While she hasn't had many prominent roles since then, it looks like all of that is about to change. She explained how the role came about after she decided to trust God.
"I am so glad that God sees us, even when we don't see ourselves. For every person who feels unseen and lost….there is a fire burning inside, even when we're at our coldest," she wrote on Instagram. "I recently decided to trust God for real and I am overwhelmed by His goodness and mercy."
https://www.instagram.com/p/Bu4HndvgWyc/?utm_source=ig_share_sheet&igshid=1qbvjy1zy0kt1
Alexis explained how much she was inspired by researching Sarah Jaked Robert's while preparing for her role.
"Who knew that my heart could be thoroughly ministered to through researching an acting gig," she wrote. "You are THEEE hardest person to research cause I kept crying every time I'd hear you speak."
She revealed that Pastor Touré was instrumental in developing her faith.
"The first time I experienced God in a way that felt real to me was under your teaching. I'd never experienced Him as a true Father who loved me without limits," she said. "You were never judgmental and you spoke so much to the person you knew I could be. I'm so excited to be a part of this project that will share the Love and Light exemplified by you and your amazing bride!!!!"
(Photo by Rich Polk/Getty Images for BET)