Steph Curry Teaming Up With DeVon Franklin For First Faith-Based Movie About Power Of Prayer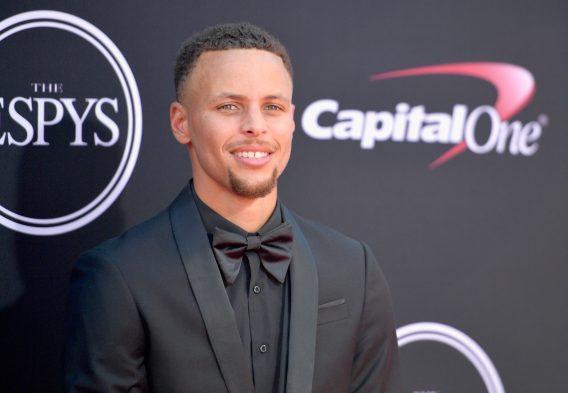 Stephen Curry is teaming up with Hollywood producer and preacher DeVon Franklin to bring a new faith-based film to the big screen. The pair are producing a new film about one boy who was brought back to life through the power of prayer.
Curry, the Golden State Warriors star point guard, announced that he would be producing films and television shows about family, faith and sports through his Unanimous Media company.  Now, The Hollywood Reporter is revealing that Curry's first project will be the faith-based drama called "Breakthrough."
The movie stems from the book written by Joyce Smith called The Impossible, which details the true story about the author's 14-year-old son falling through ice, drowning and dying. However, the power of prayer revived the teenager who loves basketball.
The powerful story was something that Curry said he was immediately drawn to.
"John's story is nothing short of incredible," Curry said in a recent THR report. "It's a story about the power of prayer and perseverance and one I immediately connected to. After reading the script, I knew I wanted to be a part of bringing it to life onscreen."
Franklin, known for faith-based movies like Miracles From Heaven and Heaven Is For Real, pitched "Breakthrough" to Curry since he was already producing the project. He believed that the film checked all of the basketball player's boxes which includes "faith, true story, family and sports."
The producer spoke about some powerful ways that he believes Curry can contribute to the film.
"He will bring attention to this story, which I think is powerful," Franklin said.
Erick Peyton, Curry's business partner who serves as the co-founder and CCO of Unanimous spoke about the importance of their company taking on the project.
"When we first set out in the entertainment business, we had a simple objective: we wanted to tell stories that would move people," Peyton told THR. "It's been paramount that we work on projects that are meaningful and resonant, and Breakthrough perfectly embodies what Unanimous and Stephen stand for."
"Breakthrough" is scheduled for an April 12, 2019 release and stars "This Is Us" actress Chrissy Metz as Joyce Smith and Topher Grace as Pastor Jason Noble.
(Photo by Matt Winkelmeyer/Getty Images)