Stellar Awards Postponed Until the Summer Due to Coronavirus
by Ambo TV | 10:19 am, March 13th, 2020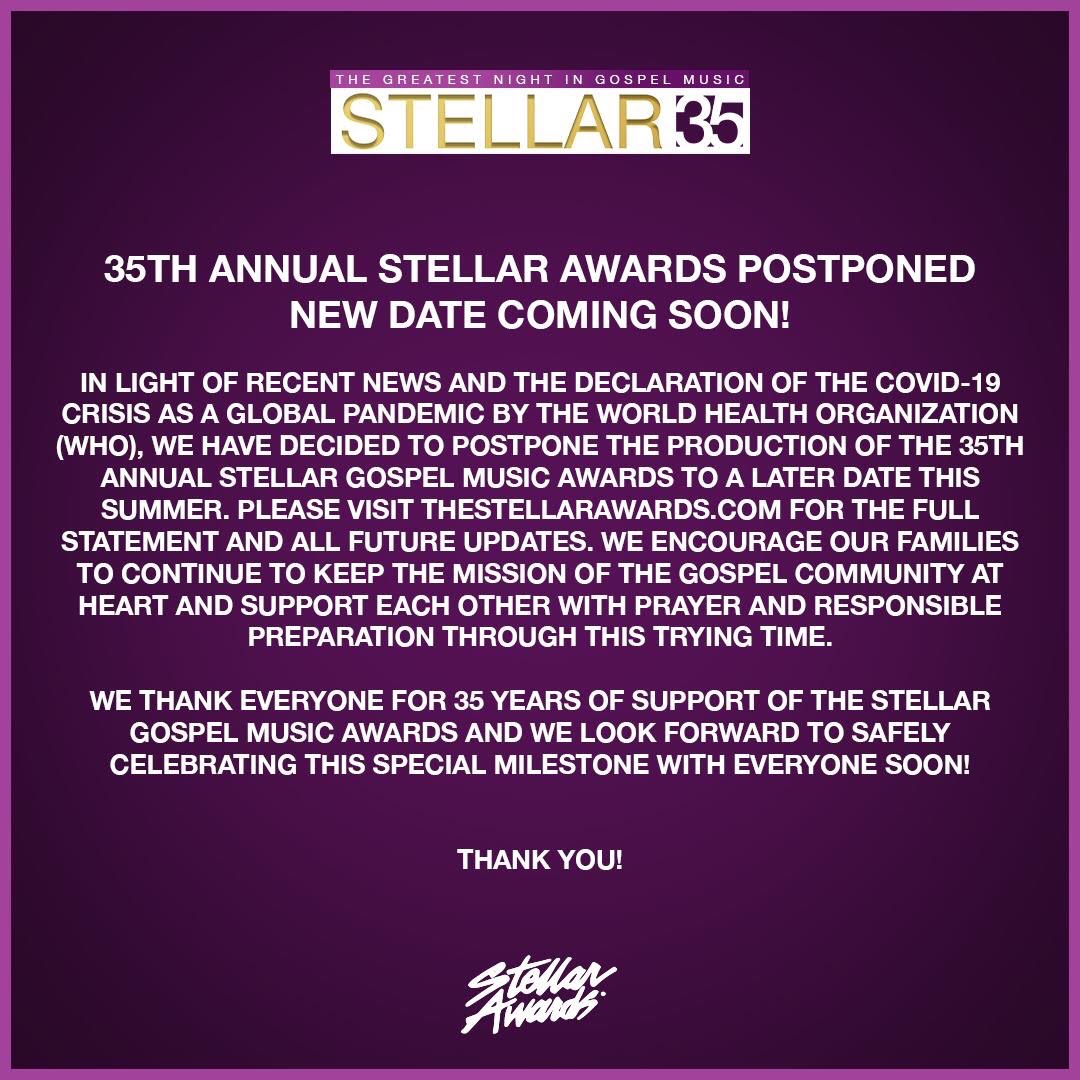 Central City Productions announced late Thursday night that the 35th Annual Stellar Awards have been postponed until the summer. The gospel celebration joins the long list of events forced to cancel or postpone due to the coronavirus 2019 (COVID-19) pandemic.
The award show explained its decision in an official statement.
"The Stellar Awards 35th Anniversary Show 2020…wishes to ensure that the safety of all show guests and participants is the highest priority," read the statement. "In light of recent news and the declaration of COVID-19 crisis as a global pandemic by the World Health Organization, we have decided to postpone the production of the 35th Annual Stellars Gospel Music Awards."
As the situation surrounding COVID-19 continues to evolve rapidly, the Stellars wanted to ensure that it was doing all it could to help combat the growing pandemic.
"It is important that we all take this matter seriously and do our part to respect the guidelines in place limiting large social gatherings to combat the community spread of this virus. We must adhere to the social distancing measures put into place and continue to remain vigilant about following al possible recommendations carefully, while remaining steadfast in our faith," the official release stated.
This decision comes only three days after Central City released an update stating that the show was going to proceed as plan. At that time, only two cases had been confirmed in Nevada, and the WHO had not declared the coronavirus a pandemic.
Within 24 hours of that update, an unprecedented number of major events and venues were canceled or suspended in order to prevent the spread of COVID-19. These include the National Basketball Association season, the NCAA tournament, Disneyland and Broadway shows. The president instituted a travel ban for most of Europe and several colleges and universities across the country have closed and moved online.
The Stellars will continue to monitor the situation and hope to provide new dates soon. For the latest updates, you are encouraged to follow their accounts on social media @thestellars and check their website www.thestellarawards.com.
As the world remains vigilant in its response to COVID-19, the Stellars also reminded everyone to keep praying through this uncertain moment.
"We encourage our families to continue to keep the mission of the Gospel community at heart and support each other with prayer and responsible preparation through this trying time."