Lauren Daigle Visits Infamous Angola State Prison

Christian pop star Lauren Daigle recently visited inmates at Angola State prison in Louisiana to offer hope and financial support.
Angola is an infamous prison with the largest inmate prison population in the country. It has a troubled past that includes once functioning as a plantation.
On December 3, the Daigle announced her partnership with Angola during her Giving Tuesday campaign.
"On Giving Tuesday we are partnering with Angola to give the inmates free calls to their families just so that the guys can keep in touch and the girls can keep in touch with their kids," the Louisiana native said in a message posted on Facebook. "Also we found out that some of the ladies need new clothing. So, we decided to say, 'yeah, let's do what we can to help out.'"
The "You Say" singer visited the prison days later where she delivered the exciting news directly to the inmates. She shared the experience in a video she released highlighting her visit.
"We ended up, on Giving Tuesday, we got you guys $17,000…to get phone calls for your families," Daigle announced around a table where she shared a meal with some of the inmates. "To be able to make those phone calls…just that little phone call home for Christmas. I hope that means something to you guys."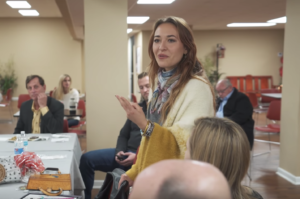 The Grammy and Dove Award-winning singer sang "Amazing Grace" with those around the dinner table, before performing a concert for the larger inmate population. During the concert, she spoke words of encouragement to the crowd.
"In the middle of the pain, in the middle of your problems, in the middle of you being the worst of who you are, He comes and He sits next to you in the process," the singer proclaims to the crowd. "He doesn't point the finger, He doesn't give you shame, He sits with you. I think that's why He's called the Savior of the world. He's not the fixer of the world, He's called the savior because He comes to save us and to set us free and rescue us from the things that would have us caught and ensnared and left in bondage he sets every captive heart free."
This is not the first time Daigle has taken her message of hope to prison. Last year she visited Statesville Correctional Prison in Crest Hill, Illinois and was greatly moved by the experience.
"I saw hope in the face of the hopeless, joy in the wake of sorrow, wealth in the gap of depravity, and life in the midst of death," she shared on Facebook.
Daigle ended her video thanking those who donated on Giving Tuesday, noting that their donations will provide for more than 70,000 minutes of connection to friends, family and loved ones.
(Photos via screengrab)