Kirk Franklin's Wife Tammy Reveals How Laughter Sustains Their Marriage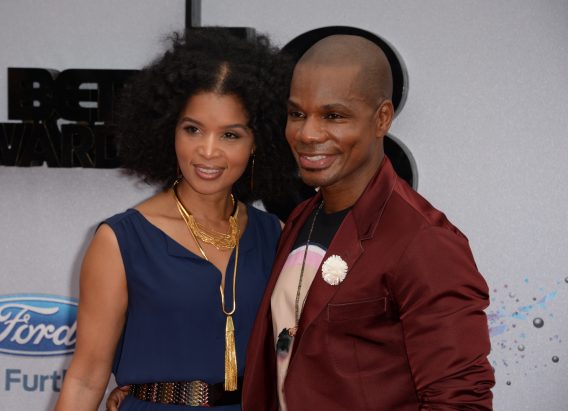 Tammy Franklin, the wife of gospel music super producer and executive Kirk Franklin, is revealing how laughter has contributed to the success of their 22 year marriage.
In a telling Instagram post, Tammy explained that the pair balance out their union with a lot of laughs.
"One of the ingredients to the success of my 22 year marriage (23 in January) is laughter. WE LAUGH A LOT," she wrote. "We are truly good friends. I feel the importance of balance is extremely needed in some Christian marriages."
The wife and mother explained how she continues to stay spiritually connected with her husband while having a good time with him.
"I'm his wife but I'm also intentional about staying his girlfriend, we pray together and are connected spiritually but it's also important that we laugh and have fun together…..," she wrote. "We work hard at being balanced, therefore we keep each other's love bank deposits full!"
For some time, the pair has publicly shared some of their good and bad experiences in marriage. In a previous appearance on the syndicated radio program, Get Up Mornings With Erica Campbell, Tammy revealed that she and Kirk have found therapy to be successful.
"I think that as a culture we kind of shy away from counseling and therapy, but it's important," she said. "It says that you love each other enough, love yourself enough to get the help that you need. And so we've done counseling; it has saved our marriage."
Kirk has been just as transparent about his marriage and spoke about his motivation for staying faithful to his wife.
"We've seen dark days together, but we saw them together. Men can be dumb at times, and want what's newer, fresher, or what our other 'head' thinks is better … But to fail Tammy, is to fail God," he previously told BET. "To cheat on Tammy is to cheat on the kingdom, my children, and even you … Those who trust me to chase Christ with everything I got. I'm not perfect, but I'm still in love … with Tammy."
(Photo ROBYN BECK/AFP/Getty Images)