Here's Why Tori Kelly Didn't Care If Gospel Music Flopped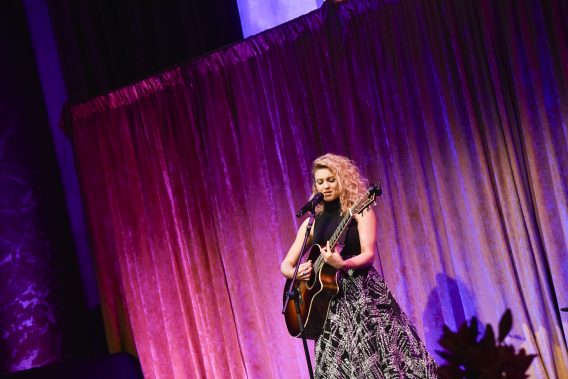 There's a reason why Tori Kelly was willing to stand by her Grammy Award-winning gospel music even if nobody else liked it.
"I thought, 'You know what? Even if this album is a flop and people just don't get it, I love these songs so much I'm still going to put them out,'" the 26-year-old pop singer said in a San Francisco Examiner report.
While there was no guarantee that her first gospel album "Hiding Place" would do so well, Tori has always had a deep respect for the genre that she grew up listening to.
"Gospel music is a big part of my roots, and when I was learning to sing, gospel singers are just some of the craziest vocalists you've ever heard," she said. "And not only that, but my faith has always been really important to me. It keeps me grounded and it's the foundation for everything in my life. So there was just this pull on my heart to make this record."
Last month Tori accepted two Grammys for "Hiding Place," Best Gospel Album and Best Gospel Song. She previously spoke to Vibe Magazine about the low expectations she had when putting out her first gospel album.
"When we decided to put out a gospel album, I set my expectations kind of low, because I figured this might not be what everybody's used to, not everybody believes in the same things," she said. "I wasn't expecting anything would come from it, but the fact that people are listening and loving this special piece of work, piece of content that Kirk (Franklin) and I made, it's really humbling and awesome."
She explained her decision to team up with Kirk Franklin on the record.
"I just randomly was like, 'what if we put a gospel song on this album?'" she describes. "I remember artists doing that back in the day, like Destiny's Child and Mariah Carey, so I thought that might be kind of cool. I brought it up to my team, and they were all for it. Scooter [Braun], my manager, he said 'You should work with Kirk Franklin if you're gonna do gospel.'"
(Photo by Kris Connor/Getty Images for Project Sunshine)