Here's What You Can Expect From Super Bowl Gospel Celebration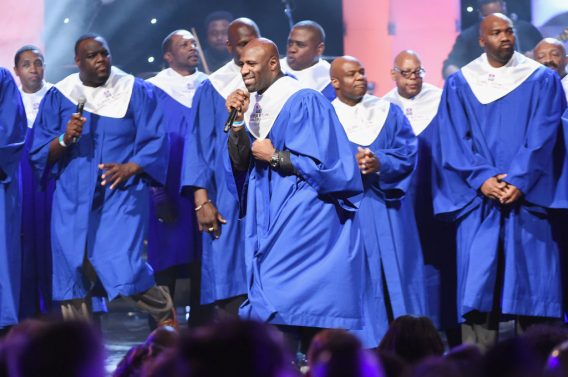 Before the big game that draws in millions of viewers each year, gospel music will take center stage for the 20th Annual Super Bowl Gospel Celebration.
The official lineup for the gospel music extravaganza has been revealed. Radio and TV personality Rickey Smiley will host the event that will take place at the Atlanta Symphony Hall in Atlanta, Georgia during the week of Super Bowl LIII.
Kirk Franklin, Tasha Cobbs Leonard, The Winans, Lecrae, Hezekiah Walker, Tamia, Koryn Hawthorne, and the Super Bowl Gospel NFL Players Choir will all perform during the show, which will also honor Denver Bronco's linebacker Von Miller.
Miller is being honored with the annual "Faith in Action" award after serving people with his charity Von's Vision. Twenty years ago, marketing executive Melanie Few felt called to create the Super Bowl Gospel Celebration.
"I do the Super Bowl Gospel Celebration because it is a call on my life," she previously told The Undefeated. "I love creating an opportunity to bring together powerful gospel music with amazing testimonies from football players, and that is the reason I do it and that is the reason that I keep it as a not-for-profit production."
In the past, the event has welcomed the likes of Pastor John Gray, Erica Campbell, Fantasia, Faith Evans, Kirk Franklin, Tye Tribbett, Jekalyn Carr, Donnie McClurkin, Natalie Grant, CeCe Winans, The Clark Sisters, and Patti LaBelle.
She credited "a rock-steady and rock-solid relationship with God" for the show's continued success. According to Few, there's a reason faith and football have been connected by so many people.
"Faith and football are a natural combination. When you look at other sports, football players are much more vocal about their faith," she said. "I have learned that the culture of football is that of family and it is values-driven. Even when they are in Pop Warner, players are brought up doing team prayer and chanting words of affirmation before games. They are brought up that way, and it may be why football is so faith-oriented."
The one hour special will be filmed on January 31 before officially airing on BET February 2, 2019 at 8:00PM E.T./P.M
(Photo by Kevin Winter/Getty Images for BET)