Here's How Carson Wentz Finds Peace In God While Sidelined With Knee Injury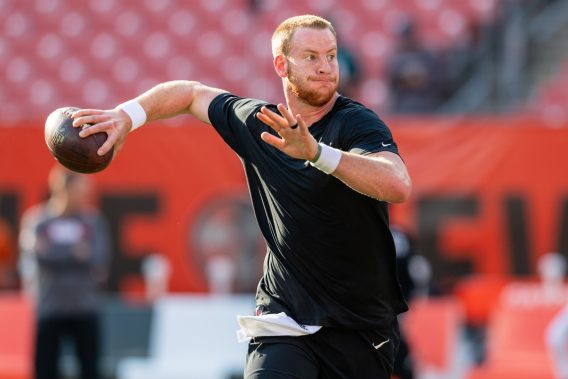 Carson Wentz has handled being sidelined with an ACL injury publicly in a positive way, but now the Philadelphia Eagles quarterback is revealing that even he has struggled with his physical setbacks.
In an interview with pastor and best-selling author Paul David Tripp, Wentz admitted that it wasn't easy being injured after helping his team make it to the playoffs as the starting QB. When Wentz tore his ACL, Nick Foles was able to take over the starting QB position and lead the team to a Super Bowl victory earlier this year.
While Wentz has never had trouble crediting Foles and his team, he told Tripp about battling his emotions in the process.
"It was tough," he said in the video posted on Tripp's YouTube page. "Your emotions are telling you things like be mad at God but knowing that my foundation is on the word of God, I had peace."
It is unclear whether Wentz will return to the field this season since he is still healing from knee surgery, but the outspoken Christian athlete is looking to the Bible during the process.
"I believe God uses trials and tough times to purify people. The Bible tells us we're like gold, going through the refiners fire," he said. "Gold, when it is pulled out of the ground, it is ugly, it's dirty. But how does it get made into pure gold?"
Wentz revealed that "it's put through the fire."
Instead of avoiding that fire that can represent trials in life, Wentz explained the importance of enduring through the painful moments.
"That fire for some of us is the hardships, the trials, the struggle, the things that nobody wants to actually endure but you come out the other end, brighter, shinier, more like Christ," he said.
Wentz and a number of Philadelphia Eagles players discussed their faith in detail with Tripp in a recording that is currently featured on The Faith Playbook website.
(Photo by Jason Miller/Getty Images)