'God Friended Me' Star Brandon Micheal Hall Has Deep Church Roots
by Christine Thomasos | 1:05 pm, July 27th, 2018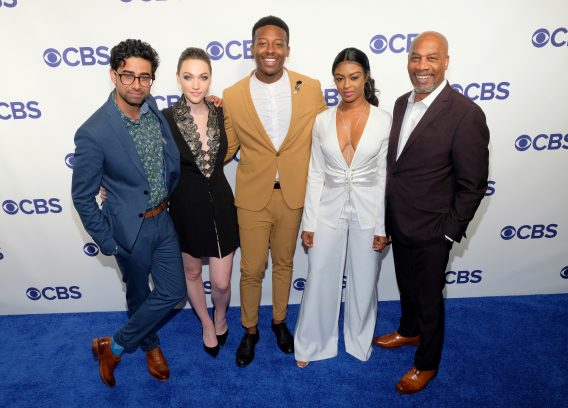 Brandon Michael Hall isn't just acting like a preacher's son on the upcoming CBS dramedy God Friended Me. The actor who was raised as the son of a preacher in South Carolina has actually lived through the experience.
Still, there are monumental differences between Hall and his character Miles Finer. Podcaster Miles is an atheist who lost his belief in the existence of God after his mother died in a car accident while Hall told GQ that he still subscribes to the Biblical beliefs that he was raised with.
"..I have a deep rooted connection in my spirituality," he told GQ last year. "It's because of my mom."
Hall told the publication that the spelling of his middle name is inspired by an angel in the good book.
"I believe my archangel, the guy who protects me, is Micheal from the Bible, and his is spelled 'Micheal,'" he revealed.
In a sneak peak for the upcoming series, Brandon's character Miles is not as accepting of the faith his father, played by Joe Morton, preaches. That is, until God sends him a friend request on social media and suggests that he add friends on the platform whose lives he ends up saving.
Hall said being raised in church inspired him to become an actor.
"I grew up in a very Southern church where there's shouting, foot stomping. And I was always engulfed by that experience and how the pastor with this ancient text was able to move this crowd in such a way — not just move them, but people would talk about it," he told in a previous interview for WWD.
In high school, Hall performed in the classic play Romeo & Juliet. During his performance, Hall witnessed the audience engaging in a similar way that they did in church.
"I was doing the prologue, and I looked down into the audience and the same attentiveness that the audience was giving the preacher I remembered growing up, I was getting in that moment… And that's when I got bit by the [acting] bug," he said. "And ever since, I've just been pushing the right buttons."
You can see Hall transform into Miles for his latest project God Friended Me on CBS for the Sept. 30 premiere. In the meantime, check out a sneak peak of the series below.
(Photo by Matthew Eisman/Getty Images)