Essence Atkins and Stephen Bishop Star in New Family-Friendly TV Movie 'Coins for Love'
by Marco Robinson | 6:00 pm, June 25th, 2020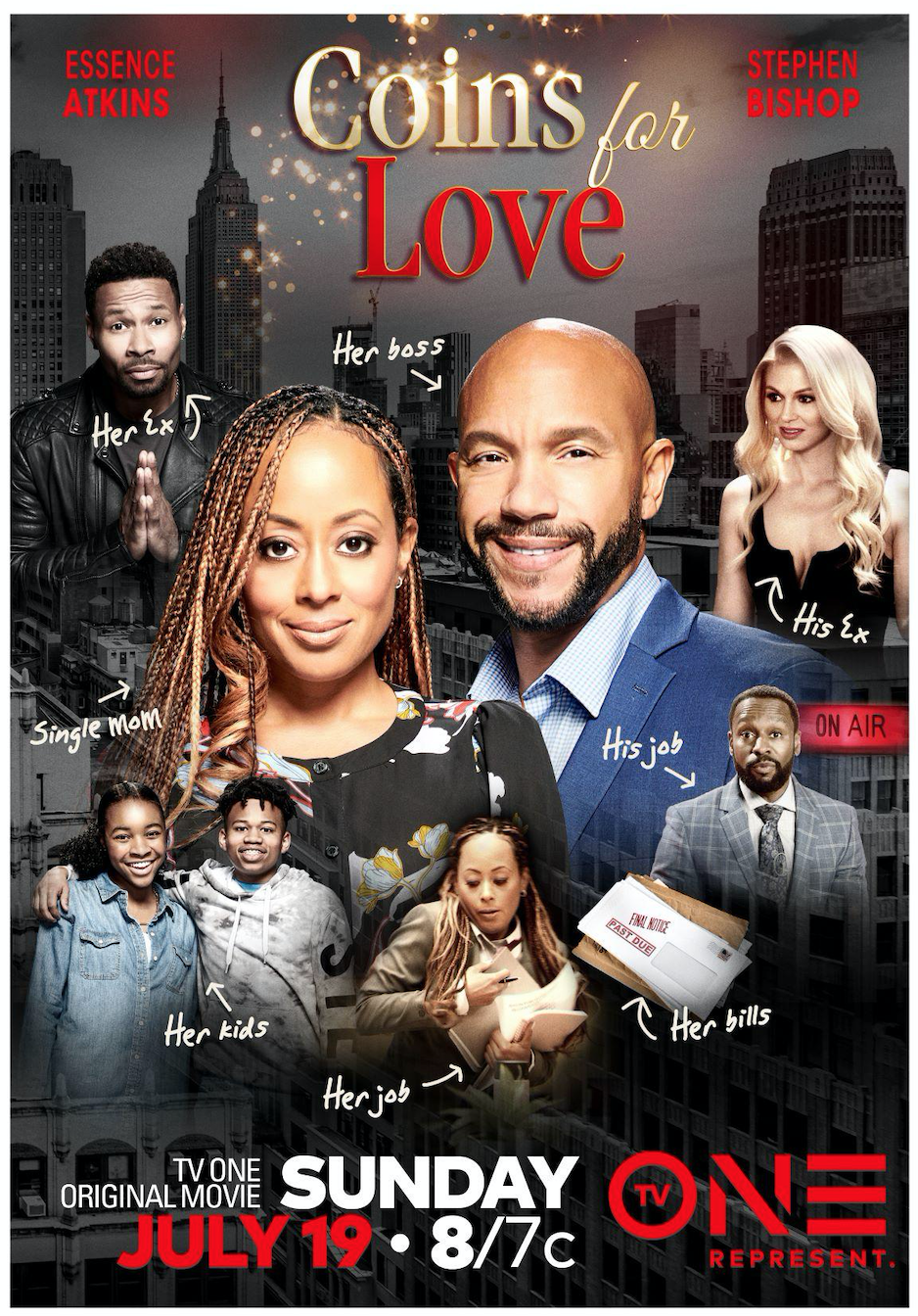 Actors Essence Atkins and Stephen Bishop have teamed up again for the family-friendly tv movie Coins For Love, which will broadcast on TV One.
The film is the sequel to the popular Coins For Christmas that broadcasted on TV One in 2018. The story follows single-mother Madison Morris (Essence Atkins) who struggles financially after being fired from her job three weeks before Christmas. Madison must also navigate a rocky relationship with her ex-husband, Jake (Karon Riley) while raising two children. In the midst of her challenges, she finds herself in a romantic relationship with Alec Darby (Stephen Bishop) an NFL quarterback.
During a press conference, executive producer Jason Ryan stated that the sequel was inspired by radio and TV personality Cathy Hugues.
"[When] Coins for Christmas aired, our Urban One Founder, Cathy Hughes, she loved the movie so much and I wanted to see what happens next."
Atkins, a veteran actor whose career spans decades, admitted that she can relate to Madison because she "[has] occupied those roles [herself] both as a mother and as a person who works and in [her] own personal life."
Coins For Love continues in the life of Madison, who finds her dream job at a publishing company, yet still struggles financially. To make matters worse, she finds herself torn between her ex-husband Jake and her new love interest Darby.
"She's just started working at a publishing company and her job is to be of service to one of the lead editors at this company. And she's juggling that along with trying to make sure that all of the bills are paid and mentoring her children and fostering their growth," Atkins said when describing the different dilemmas faced by her character Madison.
Madison's children are not the only lives she influencing. Her presence also fosters growth in Alec. In Coins For Christmas, Alec comes across as egotistical and self-centered. However, in Coins For Love, he changes because of his relationship with Madison.
"He is humble and continues the journey of trying to do things for others. He really cares about Madison and as a result of that other people," Bishop explained.
Atkins provided additional insight into the pairs' relationship noting, "Alec and Madison have become friends and there is definitely a mutual respect,'' she said. "She's more available to him and feels more comfortable teasing him and there's a playfulness to their relationship."
Bishop agrees with Atkins'assessment and believes that the honesty between the two characters is key.
"The honesty that she exhibits when confronting Alec with shortcomings leads Alec to realize that this is a real person who isn't just doing what I'm telling them to do," Bishop stated. "She's actually telling me about myself when I step out of line but telling me how I can get back into line."
Tension builds in the story when Jake, Madison's ex-husband, attempts to reassert himself in her life. As he seeks to fulfill his dreams as a producer, he wants the same for his personal relationships. "He's just trying to see if he can get his family back, and his family back, and have his career rolling," Karon Riley described his character's intentions.
Viewers can find out how Madison resolves the tension and figures it all out when it airs on Sunday, July 19 at 9PM ET/8pm CT ON TV One. You can watch the preview below
(Photo: courtesy of TV One)