Did Kanye West Hint at Dropping a Gospel Album This Month?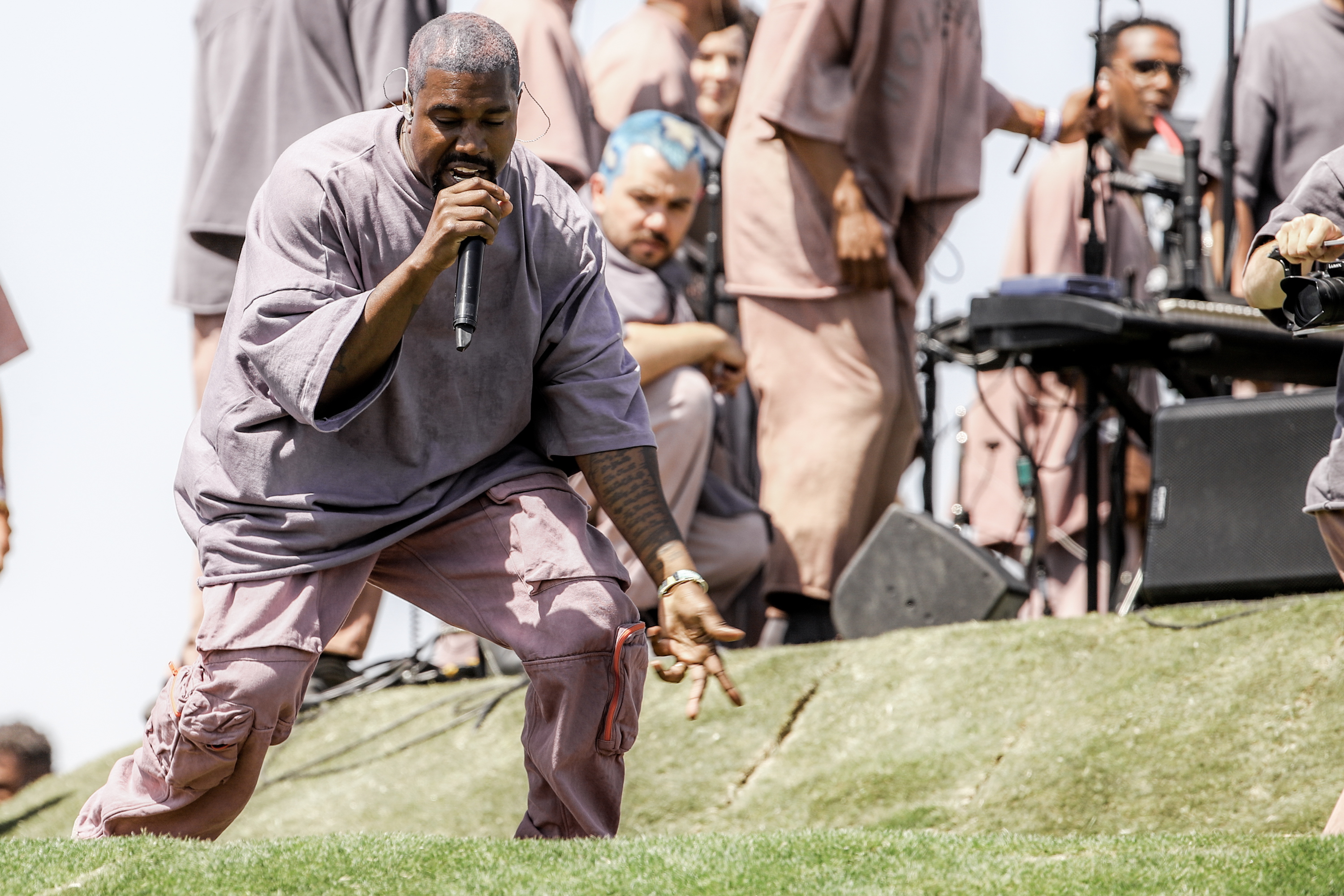 Is it a church? Is it a gospel concert, or is it something else? Kanye West has been hosting his 'Sunday Service' for months, and we still don't know quite how to categorize what his wife Kim Kardashian West describes as a "very spiritual Christian experience."
Now, the famed rapper has added further mystery around his spiritual awaking with a cryptic picture on his website. It appears to be a handwritten list placed next to a Bible opened to Psalm 57. At the top are the words "Jesus is King," and listed underneath that are other Christian words and phrases like "selah" and "through the valley." At the very bottom of the list is the date "September 27th." His wife also tweeted the list.
— Kim Kardashian West (@KimKardashian) August 29, 2019
Although Kardashian and Kanye do not elaborate on the list's potential meaning, one can't help but wonder if he is hinting at a possible new gospel project titled "Jesus is King" that will be released later this month.  Will the rapper finally share with the world what he has been doing each week in his 'Sunday Services'?
If he does release a gospel album, it wouldn't be the first time he's created faith-based music.  One of his earliest and biggest hits was the 2004 2x Platinum song "Jesus Walks," which saw crossover success in religious and secular markets.
Whether Kanye releases new music or not, he's already sharing his weekly worship experience with people across the country with his 'Sunday Service' Tour. This past Sunday he held a 'Sunday Service' for a massive crowd at the Huntington Bank Pavilion on Northerly Island in the Chicago area. Chance the Rapper joined him on stage to perform his verse on "Ultralight Beam." Admission to the event was free, but when tickets went on sale the Saturday morning before, they sold out very quickly.
Kanye West also stopped by the well-known baptist church Fellowship Chicago, which is led by senior pastor and gospel singer Charles Jenkins.  Kanye and his group were able to share some of their music with the congregation that included the song "Soul's Anchored" sung in the melody of "So Anxious" by R&B singer Ginuwine. The Rev. Jesse Jackson was also present during the performance.
While we will just have to wait to see if Kanye blesses us with new gospel music, we continue to enjoy the innovative way in which he's bringing the gospel to new audiences as he undergoes what Kardashian says is his "healing experience."
(Photo by Rich Fury/Getty Images for Coachella)