Bishop T.D. Jakes Offers Moving Prayer For Micah Stampley After the Death of His Daughter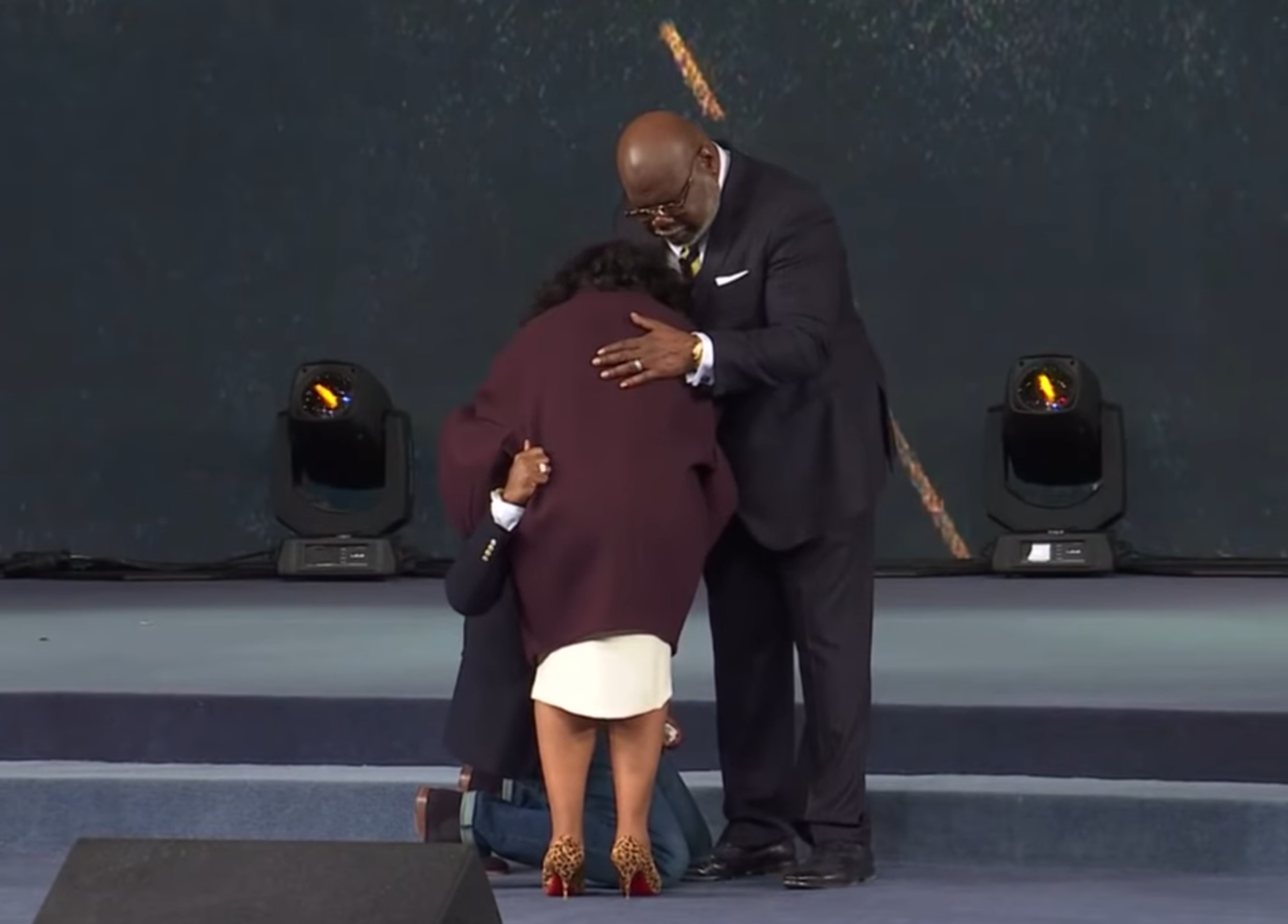 Last October Gospel singer Micah Stampley experienced a parent's worst nightmare when his fifteen-year-old daughter Mary died unexpectedly from a seizure. While such a tremendous loss would keep many grieving parents from leaving the bed, Stampley has continued to minister through the hurt.
On Sunday he ministered at the megachurch The Potter's House in Dallas.  The strength and sacrifice displayed by Stampley's presence did not go unnoticed by senior pastor Bishop T.D. Jakes.
"Micah we love you. We love your family. We've been praying for you," Jakes said during the service. "We stand in agreement with you–that the strength of God would envelope your heart. Even as you serve and you give out to other people, that God would replenish you and renew your strength and comfort you to lift your head."
Jakes was so moved by Stampley's ability to sing in the face of grief that he called Stampley over to pray for him.
"I know what it is to serve and be hurting," Jakes said while embracing an emotional Stampley who collapsed into tears in his arms. "I know what it is to give out to other people and need strength myself."
As Jakes laid his hands on Stampley's head to pray, his wife Serita Jakes, touched Stampley's hands in support.
"I pray that the strength of God overshadow you. That it would comfort your heart. That He would be the sweet comforter that the word says He is," Jakes prayed. "And touch you and your wife and your children, and give you peace and power and victory and strength and healing and virtue and glory from the crown of your head to the sole of your feet. The strength of the mighty God stand up in you."
Overwhelmed by the love and support in that moment, Stampley fell to his knees and wept. Mrs. Jakes bent down to hug him as her husband embraced both her and Stampley in what was an emotionally profound scene.
"This is sacrifice. That's what I mean by sacrifice," Jakes said after finishing his prayer. "Any time you can lose your daughter and still come and sing and bless other people—you ought to stop feeling sorry for yourself and pray…that's commitment."
Stampley also commented on his experience on Instagram.
"Tears are flowing heavily this morning as I reminisce on the powerful moment I experienced Sunday morning at @tphdallas with my Bishop @bishopjakes & my @seritajakes praying for me," he reflected. "The love and compassion I felt oozing from their hearts towards @heidistampley and I can not be compared to anything else in the world. I'm so honored and grateful to be in the life of the Jakes'"
Stampley's daughter suffered from seizures for years. He commented on her condition in an interview in 2014.
"My daughter was very sick, she just all of a sudden start having seizures," said the recording artist. "She would have twenty to thirty at night, all night long."
The condition became so severe at one point that she went into a coma and was hospitalized. Eventually she recovered and, at the time of Stampley's 2014 interview, she no longer needed medication.
Mary was the only daughter of Stampley and his wife Heidi. The couple also have four sons together.
(Photo: screengrab)