Actress Regina Hall Has A Hilarious Story About Pursuing Nunhood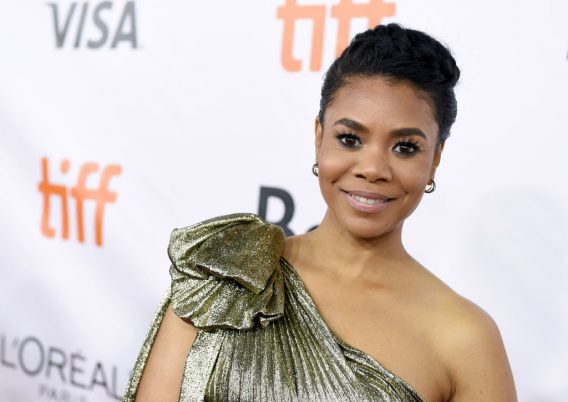 Regina Hall has acted in a number of comedies, but her non fictional story about attempting to become a nun in 2010 may be more hilarious than any comedic movie that she's been a part of.
Hall has starred in comedies like Scary Movie series, Think Like A Man and Girl's Trip, but was willing to give up acting in 2010 to pursue becoming a nun. In a recent interview with Fader the actress explained why she wanted to be a nun eight years ago.
"I wanted to do it because I find that my happiest places are when I'm in a really spiritual place. It's almost like the rest of the world becomes background," she said. "I thought, What a great life. How could I ever be sad if I'm always in prayer?"
It turns out, Hall said she was not able to join the nunhood because she was too old and had pursued another life.
"Every sect has different rules and this particular one I was interested in, their idea was that this wasn't a Plan B," she revealed. "It's not, life's not going good so I wanna be a nun."
This isn't Hall's first time thinking about becoming a nun. The actress was raised in Catholic school and looked to the nuns that taught her as role models.
"…When I was 14, I really loved the nuns. They ran our school and were so smart," she recalled. "They didn't have to worry about what to wear. I loved their little quiet time in prayer."
The actress said Catholic school felt natural and familiar to her. She remembered her love for both the sisters and priests that she encountered.
"It felt serene," she said. "I remember they were having a number of young girls join the convent, and I was like, I would like that."
Even though she was surprised that she couldn't drop acting to become a nun, that isn't stopping the actress from reminiscing about the idea.
"I just thought I'd be so happy if I was a nun. I was doing a lot of prayer and meditation and I was like, If this is all I have to do, this would be great," Hall said. "There was another girl with me who was too old, and we were both like, 'Oh, wow.' I would've been the nun from Scary Movie."
(Photo by Kevin Winter/Getty Images For TIFF )