The 5 Year Evolution Of Christian Inspired T.V. Trends
Faith-based t.v. shows are hardly a new phenomenon, but the approach that production companies have taken to bring Christian inspired content to the small screen has progressively changed over time.
From a Biblical series of epic proportions to faith-based reality television, scripted dramas, and sitcoms, Ambo TV is re-creating a timeline to showcase the evolution of Christian inspired t.v. over the past five years.
1. 2013 Groundbreaking Content
Five years ago, a variety of t.v. shows inspired by Christian content sprang forth in record breaking ways. The Game Show Network (GSN) debuted The American Bible Challenge in 2012, and in 2013 Variety reported that the Bible trivia show had become the highest rated property on the network.
The show hosted by comedian Jeff Foxworthy drew in 1.7 million viewers during its series premiere in 2012 making it GSN's highest rated game show in the network's history. It was evident that there was a market for Christian t.v. shows, but there was a lot more uncharted territory to explore within the subgenres of faith-based content.
Mark Burnett and Roma Downey, the married television and film production duo, were two pioneers that brought the Bible back to television in 2013. While home audiences have supported the 1956 movie The Ten Commandments on television for many decades to commemorate the Easter holiday, a void in scripture-based content had yet to be filled until Burnett and Downey's The Bible miniseries came along.
In 2013, The Bible premiere on the History Channel resulted in a whopping 13.1 million viewers tuning in. The couple followed the successful series with a continuation of Biblical stories called A.D. The Bible Continues in 2015.  
2. 2014-2015 Reality T.V.

Although audiences proved to be interested in Bible-based t.v. shows, people also began to show interest in another trend. Christian reality television programs hit the scene hard in 2013 with Preachers Of L.A. documenting the lives of pastors for the cable network Oxygen,  Preachers Daughters following ministers' children on Lifetime and The Sisterhood centering around preachers' wives on TLC.
The allure of secular reality television shows like Keeping Up With The Kardashians proved to translate in the Christian community with cable television continuing to push out new seasons and spin-offs of their take on faith-based docuseries. After testing the waters in 2013, production companies went full steam ahead by pumping out more reality television programming inspired by the lifestyles of Christians.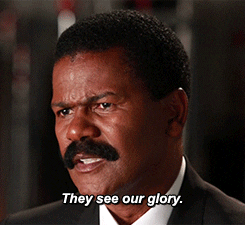 With the success of Preachers of L.A. came a number of spinoffs like Preachers of Detroit and Preachers of Atlanta featuring popular pastors like Bishop Noel Jones, Deitrick Haddon, Kimberly Jones Pothier, and Dorinda Clark-Cole. However, some Christian reality show concepts did not go over well with audiences.
The Lifetime show Preach that followed the life of four prophetesses on the network premiered in 2015, but ended before a full season could even air. Over 15,000 Christians signed an online petition to cancel the series.
It seemed this was the beginning of the end of an era for Christian reality t.v. shows which continued to be cancelled throughout 2015.
3. 2016- 2017 Christian Dramas
In 2016, prime time Christian dramas began to hit the scene like never before. Scripted series centering around churches began to rise in popularity with shows like the Oprah Winfrey produced drama Greenleaf which airs on the media maven's OWN network and the Bounce TV series Saints & Sinners.
Both shows follow the scandalous characters in and around southern black church communities and are continuing their runs on television two years after premiering. In 2016, the Catholic church community became the focus of a dramatic HBO series called The Young Pope starring actor Jude Law.
On the show, Law portrays a fictional head of the Roman Catholic Church named Pius XIII. According to TV Line reports a new spin-off miniseries called The New Pope is currently in development for HBO.
Digital networks also rode the Christian drama wave by premiering original scripted content on various platforms last year. In 2017, Christian t.v. and film studio Pure Flix also released a new genre of faith-based drama called a "hope opera" in 2017 called Hilton Head Island.
Veteran soap opera stars from the '80s and '90s like Donna Mills and Antonio Sabato Jr. from General Hospital, Crystal Hunt from One Life to Live and Michael Swan from The Bold and the Beautiful star in the show and make it feel like one of the dramas of old. Another digital series took a different dramatic direction in 2017 with a post-apocalyptic show called Daily Bread.
The digital series that premiered on Amazon, VHX and Christian Cinema follows seven millennial women who have to use their faith and wits to help rebuild civilization without technology after the world as they know it ends.
While the array of faith based dramas being offered to the masses have proven to be successful, another genre soon began to gain popularity on network television.
4. 2018 Faith Inspired Sitcom
This year, faith-based sitcoms have taken over cable and network television. On CBS, a sitcom called Living Biblically told the story of one man who attempted to live his life strictly by the Bible after his best friend dies and the wife gets pregnant. Despite the hilarity that ensued, the show was canceled after eight episodes. However, that hasn't slowed other networks down from rolling out even more faith-based sitcoms for t.v. audiences.
On HBO, youth pastor turned comedian Pete Rock explores his faith for the show Crashing. TBS is also gearing up to premiere the comedy God Friended Me about an atheist who receives a social media message from the God.
Throughout the past five years, a range of genres have been explored from a faith-based perspective. Now, a number of series on the horizon are showing a diverse amount of Christian themes like the international drama American Jesus which is currently being developed for Netflix along with Messiah from Burnett and Downey. Each series will attempt to take their own spin on what a modern day Jesus would look like.
While it remains to be seen which television trend will impact Christian audiences next, what is clear is that production companies have been making faith-based programming a priority over the past five years and show no signs of slowing down anytime soon.