5 Things We Love About Kierra Sheard's New Video 'Don't Judge Me'
Gospel artist Kierra Sheard is creating a judgment-free zone in her latest music video "Don't Judge Me." Released today on YouTube and other outlets, the video is a high energy track that is sure to have you dancing this summer.
Here are five things we love about the video!
1. Her Ability to Laugh at Her Wig Mishap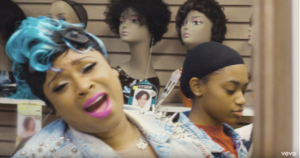 Last year while performing in Atlanta, Sheard had a hair malfunction when her blond wig flew off in the middle of her singing her heart out. While most people would have run off stage, not Sheard.  Embracing the humor of the moment, she quickly picked the wig off the ground and waved it around in her hand as she continued to perform.
Being able to laugh at yourself is the key to having a happy life, and Sheard shows us in this video that she's still able to do that.
2. Her Adorable Niece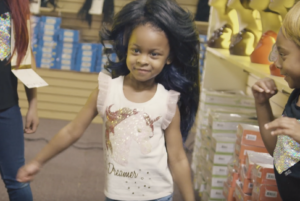 Sheard's niece Kali is no stranger to making cameos in her famous family's videos. She has made several appearances on her grandmother Karen Clark Sheard's Instagram page. She even posed as her famous great-grandmother, Mattie Moss Clark, in a picture posted on Kierra's page.
So it only makes sense that she would appear in her aunt's newest video wearing a long black wig while dancing around. Adorable!
3. Beyoncé Giving a Shout Out to Kierra's Mom and Aunts!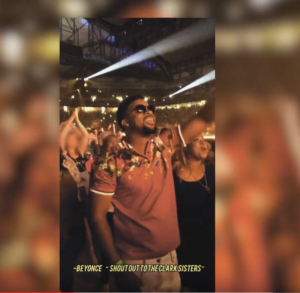 Sheard's mother and aunts comprise the renowned gospel group known as The Clark Sister. Their legacy has influenced countless generations of singers, including the Queen B herself, Beyoncé.
In the video, there is a snippet of Beyoncé paying homage to Sheard's family during one of her concerts.  While you don't see the super star singer, you can hear her yelling from the stage "Shout out to the Clark Sisters!"
4. Her Dancing in the Desert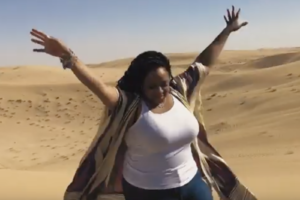 Sheard is dancing all over this video, from a Beyoncé concert to a wig store. But we love how she's dancing in the desert. It has inspired us to add another item to our bucket list!
5. The Overall Message of the Song
Perhaps the best part of the video is its message. Just listen to the lyrics, "I did it all for the first time. Made a mistake but I earned mine…If I'm dancing when I wanna, please don't judge me! If I'm smiling when I'm under, please don't judge me!"
Sheard is not afraid to embrace her imperfections. She only asks that instead of judging her for them, let her live and allow God to perfect her.  Now that's a message we all can relate to.
You can watch this fun video above. Let us know what's your favorite part.
(Photos via screengrab)