3 Ways The Church And Gospel Music Shaped Aretha Franklin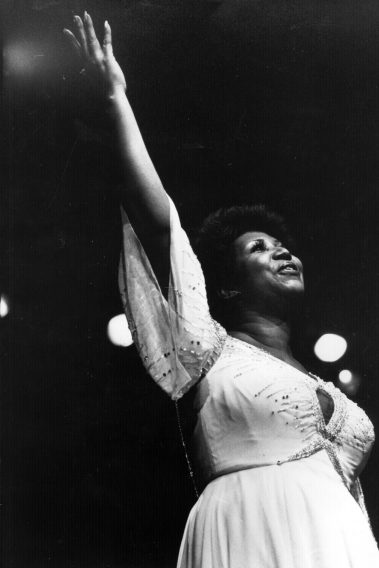 This morning the incomparable Queen of Soul Aretha Franklin passed.  Her illustrious career spanned decades and brought the world many classic tunes like Natural Woman and Chain of Fools.
But before she demanded "Respect" in her songs, she sang the gospel in church.  Even when she later transitioned to an R&B and Soul artist, she never left her gospel roots.   
As we look back on the life and legacy of Aretha Franklin, here are three ways the church and gospel music shaped Aretha Franklin.
1. Aretha Franklin Was The Daughter Of The Well-known Preacher Clarence LaVaughn "C.L." Franklin.
Aretha Franklin grew up accustomed to the spotlight.  Her father, Rev. C.L. Franklin, pastored New Bethel Baptist Church in Detroit, where he rose to national notoriety.  He became one of the most popular African American preachers during his time. 
His widespread fame came as a result of his recording and selling his sermons. Long before networks like Ambo TV live streamed sermons on demand, Rev. Franklin had the ingenuity to record his messages and made them available to audiences outside of New Bethel. His albums sold in the hundreds of thousands and his sermons were broadcast on radio.
Eventually, Rev. Franklin started a touring group called the C.L. Franklin Gospel Caravan. He would preach his most popular sermons, and young Aretha would play the piano and sing. Touring with her father developed her talent and provided the foundation for the soulfulness later imbued in her secular music.
You can hear one of her father's fiery sermons in the clip below.
2. She Was Mentored By Gospel Legends Like Mahalia Jackson, James Cleveland and Clara Ward
When your father is the renowned Rev. C.L. Franklin, your choice of potential mentors are equally as renowned.  Mahalia Jackson, for instance, was a close friend of the Franklin family who would sing at New Bethel.  She mentored the young Aretha, as Aretha gleamed from the dynamic singer.  Other influences included people like the Rev. James Cleveland who taught her how to play gospel chords.
Gospel singer Clara Ward of the Ward singers was one of Aretha's biggest influence.  Ward, a prolific songwriter, toured with Aretha's father and dated him for a period.  Aretha was drawn to Ward's lively performance style, and described herself a disciple of Ward.  Ward, in turn, mentored Aretha, shaping her to become the Queen of Soul.  Early on Aretha tried to imitate Ward, before eventually settling into her own style.
This is a clip of Aretha covering one of Ward's most popular songs, How I Got Over.
3. She Is One Of A Handful Of Artists To Successfully Go Between Gospel & Secular Music
Going back and forth between gospel music and secular music is not easy.  This was especially true during the time when Aretha rose to fame. Typically, once a gospel artist crossed over to secular music, he or she stayed there.  And if you were a secular artist, you did not record gospel albums.  The careers of Sam Cooke and Sister Rosetta Tharpe, for example, demonstrated this.
Aretha Franklin is an enigma in this respect.  Unlike other artists, Aretha has had great commercial success as both a secular and gospel artist. For instance, her 1972 live album Amazing Grace landed on the U.S. top ten and went platinum twice.   While most of her success came through her R&B and soul music, the church still embraced her as its daughter and supported her music.     
Her ability to go between genres speaks to the depth of her talent.  She remains one of the few artists that audiences love, no matter if she's singing soul music or the gospel.
If you need further proof of her greatness just listen to her rendition of Amazing Grace.
(Photo by Keystone/Getty Images)