10 Artists That Have Found Success in Christian and Mainstream Music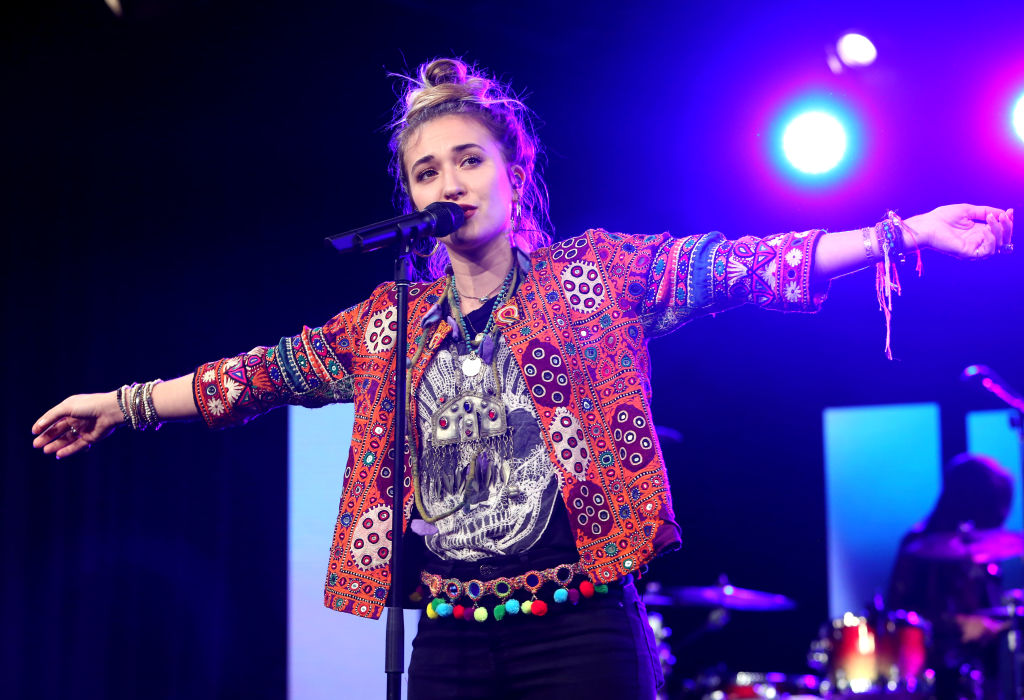 Successfully crossing between mainstream music and Christian music is not easy.  Whether it is a mainstream artist attempting to tap in her religious roots, or a Christian artist desiring to reach a broader audience, navigating both areas well is rare.
Despite this challenge, Ambo TV has assembled a list of 10 artists that have managed to find success in both mainstream and Christian music.
1. Tori Kelly:
Tori Kelly's talent is undeniable.  She has been inspiring fans with her gift ever since her first EP "Forward" in 2013.  Although she started out as a pop artist, she would also infuse Christian themes in her music with songs like "Dear No One."  Last year Kelly shifted genres when she teamed up with the award-winning producer Kirk Franklin to complete her first gospel album "Hiding Place." Despite her hesitations, her album was well received, winning her two Grammys last Sunday for Best Gospel Album and Best Gospel Performance.
2. Avril Lavigne:
Before she had hit songs like "Sk8ter Boi" and "Complicated," Avril Lavigne was singing in her church back home in Canada. That is why she was not surprised when her song "Head Above Water" became a crossover hit on Billboard's Hot Christian Songs charts.  The song was birthed out of her battle with Lyme disease, which she contracted from a tick about five years ago. The song is an uplifting tune that is the title track of her new album released today.
3. Nicki Minaj:
When you think of gospel music, I'm sure Nicki Minaj does not come to mind.  However, when she teamed up with gospel vocal powerhouse Tasha Cobbs Leonard for the song "I'm Getting Ready," she joined her name with the genre.  Their collaboration came months after Minaj, whose real name is Onika Maraj, revealed that she would love to work with Cobbs Leonard.  The reception to Minaj's crossover was a mixture of approval and acceptance for audiences.  Unmoved by the criticism, Cobbs took it in stride, posting funny memes on her Instagram page sprinkled with hashtags like #SheKnowsGodBetterthanSomaYall #andHeKnowsHer!!"
4. Lauren Daigle:
Like many artists on this list, Lauren Daigle started singing in her choir. Her first album "How Can It Be" was certified Platinum and won awards.  Her most recent work, "Look Up Child," has also seen great success both in Christian and mainstream markets.  She made a debut on the Ellen Show, where she sung a track from her album selected by the host.  Her hit single "You Say" was featured on the Adult Top 40, Adult Contemporary and Mainstream Top 40 charts. It peaked No. 34 on the Billboards Hot 100, and she took home this year's Grammy for Best Contemporary Christian Performance/Song.
5. Michelle Williams:
Michelle Williams rose to notoriety as a member of Destiney's Child, one of the most successful female trios of all time.  However, when the group ended in 2006 Williams transitioned to gospel music, a genre she occasional dabbled in when singing alongside artists like Shirley Caesar.  Her crossover into gospel has been well received,  with songs like "If We Had Your Eyes" and "Say Yes," which her former bandmates Beyonce and Kelly Rowland were featured on. 
6. Kanye West:
Kanye West's recent Sunday experiences suggest that he's undergoing some form of spiritual awakening or revival.  However, before he had weekly church-like gatherings, he was very vocal about being a Christian. Indeed, one of his earlier hits was the crossover song "Jesus Walks."  The song is a powerful acknowledgment of West's reliance on Jesus and him musing what would happen if he mentions Jesus in his music.  As one line states, "But if I talk about God my record won't get played/Huh?/Well let this take away from my spins/Which will probably take away from my ends/Then I hope this take away from my sins." 
7. Carrie Underwood:
In 2005 Carrie Underwood won season 4 of the talent show American Idol.  The victory jump-started her music career, which has seen success in both country and Christian markets.  The hit song "Jesus Take the Wheel" from her first album was a crossover hit instantly, peaking to No. 4 on the Billboard Hot Christian Songs chart, while also becoming a two 20 on the Billboard Hot 100 chart.  She has had several other hit crossover songs.
8.Whitney Houston:
Whitney Houston's life ended far too soon. Yet, before she left this world, her voice made an impact not just on the secular music world, but also on gospel music.  The album she did for the Preacher's Wife soundtrack is the best selling gospel albums of all time, with over 6 million copies sold worldwide.  It peaked to #3 on the Billboard 200, and No. 1 on Billboard's Top Gospel Albums.  Amazingly, 22 years after the album was released, it peaked to No. 13 on Billboard's Top Gospel Albums on November 18, 2018. 
9. Aretha Franklin:
The late, great Aretha Franklin is known as the Queen of Soul.  However, before she earned that distinction, she was a gospel singer, traveling with her family.  Eventually, she moved into soul music, but she never left her gospel roots.  In 1972, she recorded her first gospel album after becoming a secular artist, and audiences loved it!   Not only did it win her the 1973 Grammy for Best Soul Gospel Performance, but it remains the biggest selling album of her career. 
10.Nina Simone:
Nina Simone was a talented multi-genre artist.   Born Eunice Kathleen Waymon, this child of a preacher was trained at Juilliard School of Music. She experienced many hits during her career, one of which was her extended version of "Sinnerman," an African American spiritual.  She learned the song in childhood when her mother, a Methodist minister, would use it during revivals. This song remains influential in culture with artist like Kanye West sampling it.
(Photo by Jesse Grant/Getty Images Getty Images for NAMM)