Out to Abundance: Faith For Creatives
by Ambo TV | 3:21 pm, March 27th, 2019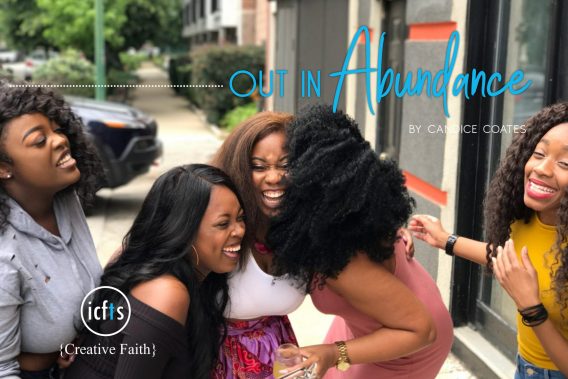 "…we went through fire and water, but you brought us out to abundance." ~PSALM 66:12
Another translation of this portion of scripture says, "We went through the fire and through the water, but You brought us out to rich fulfillment."
Here is what we as Creatives and People of Faith have to take note of:
THERE IS 'PROCESS' BEFORE 'POSSESSION'.
Before we are able to take hold of and step into the new level that God has for us, we must be prepared for it. Who we are before the process is not who we will be on the other side of it when we take possession of what the Lord has promised and called us to.
Fire. Consider the occurrences of forest fires, not the ones that are caused by human negligence, but those that take place as a part of the circle of creation.
These fires are natural. They may cause great devastation, but, they bring greater enrichment to the ecosystem.
Water. Water, rain, are necessary for the nutrients to be able to get into the soil for the new abundance to spring forth from the newly enriched ground.
Sometimes it seems that we go from one trial straight into another. I will not say that this isn't a difficult thing to endure, but we can endure it through and with Christ Jesus.
"Now this is what the Lord says—the one who created you, Jacob, and the one who formed you, Israel—"Do not fear, for I have redeemed you; I have called you by your name; you are mine. I will be with you when you pass through the waters,
and when you pass through the rivers, they will not overwhelm you. You will not be scorched when you walk through the fire, and the flame will not burn you…Because you are precious in my sight and honored, and I love you, I will give people in exchange for you and nations instead of your life. Do not fear, for I am with you…" ~ISAIAH 43:1-2,4-5a CSB
Because the Lord has loved us and has called and created us for a purpose, we can be assured, even as we go through our trials on the way to our possession that:
He will be with us
He will protect us from harm
He will bring us out into abundance
We do not have to be afraid
We are LOVED
Remember, gold without fire is never purified and faith that has not been tested cannot be trusted. Allow the faith within you to be enriched by the process of the fires, sated by the waters, and mature in trusting His word as you receive the abundance that is yours.
For more encouragement, listen to this beautiful song, Fear Not, sung by Tshepang Mphuthi, expressing His faithfulness to us as we go through on our way to possession! [
~Poiema, Poetry in Motion
Candice Coates is an author, blogger, and contributor to Ambo TV.  This article originally appeared on her website www.icameforthesoup.com.