Creed II Reflects This Biblical Story's Themes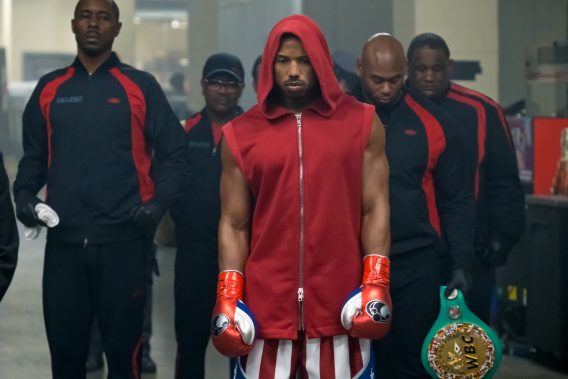 We all have something that we're fighting for.
Hollywood is promoting the biggest fictitious fight of the decade in the latest blockbuster, Creed II. If you're a fan of Sylvester Stallone's Rocky film franchise, then you know what's at stake.
Over thirty years ago, Stallone's character Rocky Balboa defeated the Mack Truck-sized Russian fighter Ivan Drago who killed his best friend Apollo Creed during a bout.
"If he dies, he dies," Drago infamously said after beating Apollo to death.
In Creed II, Apollo's son Adonis must face off against Viktor Drago, the son of the man who killed his father. Drago has the height and power over Adonis in a bout that eerily mirrors his father's.
Adonis isn't the first person who has had to fight seemingly insurmountable odds against a powerful opponent. In 1 Samuel 17, a shepherd boy named David had the heart to fight a giant Philistine named Goliath who challenged his people.
When Adonis accepted a similar challenge from the giant Drago, his mentor Rocky posed an important question to him.
"You got to ask yourself, what are you fighting for," Rocky asked.
If Rocky were to ask David that question, we might have an idea of what his response would be. In 1 Samuel 17:45‭-‬47, David said he was fighting so "that all this assembly may know that the Lord saves not with sword and spear. For the battle is the Lord 's, and he will give you into our hand."
David was able to defeat the giant Goliath with nothing more than faith in God, a stone and a sling. While you will have to watch Creed II to see how Adonis' battle ends, we can use his story as inspiration to ask ourselves why we are fighting.
In the film, each character both in and outside of the ring seems to be battling with that question. As believers, 1 Timothy 6:12 reminds us that we are fighting the good fight of faith.
No matter how big our opponent looks, we can have faith in the fact that God enables us to be victorious against all odds.
Creed II starring  Michael B. Jordan, Sylvester Stallone, Tessa Thompson,Dolph Lundgren, boxer Florian Munteanu and Phylicia Rashad is in theaters now.
For more information, please click here.
(Credit: Barry Wetcher / Metro Goldwyn Mayer Pictures / Warner Bros. Pictures movie still)