Church Holds Service to Remember Victims of I-75 Crash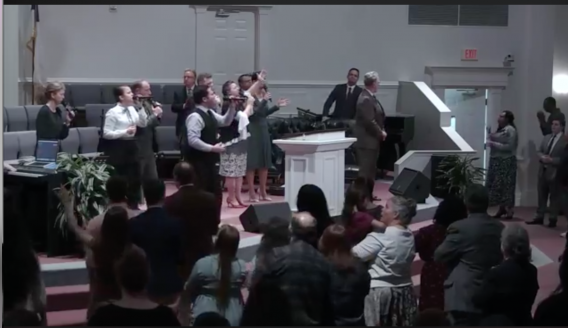 What should have been a day filled with fun and laughter turned tragic last Thursday when a church van became involved in a deadly accident on I-75 near Gainesville, Fla.  Seven people were killed, including five children.
Last night, The Pentecostals of Gainesville Church, hosted a "Night of Hope & Healing" remembering the families of the 1-75 tragedy. 
A member of the United Pentecostal Church International (UPCI), the Gainesville church held a service that included songs, prayer, and words of comfort for the victims of the January 3rd accident.  Many gathered to show their support to the victims.
"(We're here) to support the church and what they're doing for all the people who were injured and killed," church member Myrna Mason told News4Jax. "It's just so horrific."
For those who were unable to attend, the event was broadcasted live on Facebook, where people also showed their support.
"God bless you all… And these families… Prayers for you all from Pensacola," wrote one viewer from Pensacola." 
"Touch these people that are walking through this furnace…let them know Jesus that you are right by their sides…." offered another Facebook viewer.
On January 3rd, twelve members of Avoyelles House of Mercy UPC, including three adults and nine children, were traveling from Marksville, Lou. to Disney World in Orlando, Fla. when a car and tractor-trailer broke through a metal guardrail after slamming into each other.  Both vehicles struck the church van and another tractor-trailer, which caused a fuel leak and massive fire.   
Five of the children on board, ranging in ages from 9 to 14, were killed, along with the two truck drivers. According to a statement by UPCI, Avoyelles' pastor Eric Descant lost a granddaughter and his wife was seriously injured in the accident.
Another adult victim in the van was pregnant, but she and the baby are expected to be fine. The other four children are expected to recover as well despite their injuries. 
As UPCI community continues to heal from this event, they ask for prayer. 
"Please pray for the healing of those physical injuries," the UPCI statement reads, "And, perhaps even more so, pray for the church and families that have been so massively affected by this tragedy." 
If you would like to donate to the families of the victims, the UPCI has established a fund for monetary donations that you can mail to P.O. Box 248, Tioga, LA 71477 or give online.
(Photo: screengrab)